Budbringeren (Junk Mail)
(1997)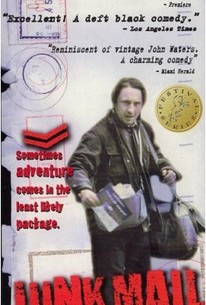 Budbringeren (Junk Mail) Photos
Movie Info
Dimwitted, somewhat misanthropic Oslo mail carrier Roy's quiet life changes dramatically on the day he steals a set of keys and lets himself into the apartment of a deaf woman who seems to be in trouble with a psychotic criminal. Though he doesn't know it at the time, his and her fate are about to intertwine and this is not going to be to his benefit. A combination black comedy and thriller, the film presents a view of the seedy side of Oslo that is seldom seen by tourists. ~ Sandra Brennan, Rovi
Critic Reviews for Budbringeren (Junk Mail)
Audience Reviews for Budbringeren (Junk Mail)
This is critically acclaimed Norwegian film paints a horribly depressing image of urban Oslo as we follow a lonely postman on his daily routine of work and snooping around in the lives of his costumers. The events resulting from that are as sad as funny and definitely pull you into the film quickly as things get worse and worse from Roy entering the life of a woman as she is trying to commit suicide. While the solution to all the mess that is caused is not entirely as satisfying as the way there, the movie is still worth watching, if you enjoy those kinda films. It's real, gritty, not pretty but pretty amusing.
Budbringeren (Junk Mail) Quotes
There are no approved quotes yet for this movie.