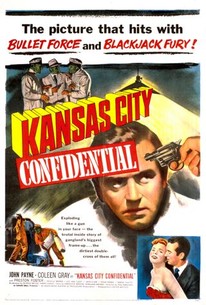 Kansas City Confidential
1952, Crime/Drama, 1h 38m
15 Reviews
500+ Ratings
Where to watch
Rent/buy
Subscription
Rent/buy
Rate And Review
Kansas City Confidential Photos
Movie Info
A mysterious fellow (Preston Foster) contacts a trio of criminals (Jack Elam, Neville Brand, Lee Van Cleef) to help with a bank heist. The four wear masks and remain strangers to each other, planning to reunite in Mexico to divvy up the loot. Joe Rolfe (John Payne), the man they framed to take the heat, gets his charges dropped, and the police offer him a reward if he can help recover the cash. He agrees, and when one of the thieves meets his end, Rolfe assumes his identity to catch the crooks.
Audience Reviews for Kansas City Confidential
Gripping crime noir that would later serve as the inspiration for Quentin Tarantino's Reservoir Dogs. There's a scene that also feels like it inspired David Chase when he scripted Sal ''Big Pussy'' Bonpensiero's murder scene.

A perfect crime needs a perfect fall guy and, after 3 beatings by police questioners, this fall guy goes looking for the guys that set him up. There's plenty of gunplay and fisticuffs in this tough story about tough guys in a tough world, lots of tension, twists and turns, but it's worth it by the end.

One of the more influential film noirs to emerge from the 1950s, "Kansas City Confidential" is a competent enough crime thriller and sure-handed effort from director Phil Karlson. While it isn't involving and is especially lacking in several aspects that are crucial in keeping the viewer interested, it's at least worth watching for the impact that it has surely had on many modern crime thrillers.

May have inspired Affleck's The Town a bit. Also a bit similar to The Taking of Pelham One Two Three (the original at least). A bank heist is masterminded. The big man in charge wears a mask when he hires Pete Harris (Jack Elam), Tony Romano (a young Lee Van Cleef), and Boyd Kane (Neville Brand). They are to wear masks when they pull off the crime so they won't know each other. They each are given a ripped in half playing card as their calling card for divvying up the take later in Mexico. We know that they each have their recognizable characteristics. We know that the mastermind is Tim Foster (Preston Foster) and later find out he is an ex-cop. Joe Rolfe (John Payne) works for a flower delivery service and drives a truck identical to the one the bank robbers use for their get away. After being roughed up by the cops and then released when his innocent story checks out, he goes after the real criminals. He wants in on the four way split of the cash. At a resort in Mexico the mugs start gathering to claim their share and it is obvious they won't have too hard of a time identifying each other. But will they figure out who the mastermind is? Foster strangely doesn't seem to be aware that something is amiss when Rolfe claims the name Harris, even though he knows the men he hired. It turns out there is more to his plan. Foster's daughter is a wild card in the mix. She arrives to visit her dad on his regular fishing trip as a surprise and starts a relationship with Harris/Rolfe. There is a lot of shuffling of who will come out on top. Much of the dialog and action is hard-bitten and enjoyable. Compared to Detour though, another entry in the Film Noir Collector's Edition DVD's, there are moments like the end when it lightens and becomes more melodramatic.
See Details