Keeping Up With The Joneses
(2016)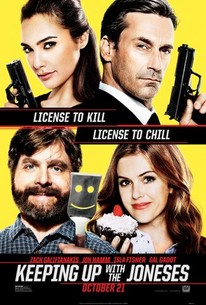 TOMATOMETER
AUDIENCE SCORE
Critic Consensus: Keeping Up with the Joneses squanders a decent premise -- and a talented cast full of funny people -- on a witless and largely laugh-free suburban spy adventure.
Keeping Up With The Joneses Videos
Keeping Up With The Joneses Photos
Movie Info
A suburban couple becomes embroiled in an international espionage plot when they discover that their seemingly perfect new neighbors are government spies.
News & Interviews for Keeping Up With The Joneses
Critic Reviews for Keeping Up With The Joneses
Audience Reviews for Keeping Up With The Joneses
Thank goodness for Isla Fisher or this time waster would've been insufferable. She was even more interesting playing knocked out than anything else going on. Groan-worthy scripting. Did I mention Isla Fisher yet?
Kevin M. Williams
Super Reviewer
Too many times, we get comedies like Keeping Up With the Jonses where the trailer makes us groan and not laugh. All of the best gags in the film are shown in the trailer and there isn't many of them. The best scene in the film is a gag with Hamm, Galifianakis, and Bobby Lee in an underground extreme snake restaurant and that's in the first 15 minutes. Even watching Wonder Woman in lingerie isn't as satisfying as you thought it would be. The story is thin, the acting is tame, and the jokes are well...shite. One thing to the film's credit, it had a potential story to tell about the plague of married couples trying to find themselves in a boring quiet suburban life but can't even find a way to take advantage of the angles of their film that works. Keeping Up With the Jonses is simply not funny and not even worth a rental. You won't miss anything giving this film a pass.
Jacob Smith
Super Reviewer
½
There is a point in the newest comedy from director Greg Mottola where it seems all hope might be lost for this broad comedy to rise above the grind it seemed so destined to follow, but it only ends up being a brief moment of wackiness that Mottola and crew don't care to dedicate themselves to carrying out. Rather, Keeping Up With the Joneses continues its stride toward the mediocre with very little to serve as surprising or inspired despite being made by the guy who put together Superbad and Adventureland. Yes, Mottola, the man who directed the likes of one of the great high school comedies of the last fifteen years as well as tapping into the struggles of that weird time post-college where you're not sure where to go from that point has made a movie for the first time in five years that in fact couldn't feel more uninspired. My hope, when I saw that Mottola was directing, was that the trailers and TV spots for the film might intentionally be setting our expectation bar low so that when we finally saw the finished product we might be taken with how much better it actually is than we expected. And while this does somewhat happen given the trailers and TV spots indeed made this look terrible in the vein of a run of the mill comedy that says let's put your average person in the midst of a ridiculous situation and see how funny they act in response to it kind of way. Still, with the talent Mottola and the studio garnered for this project my hope was that the film might bring something deeper or more acute to the scenario of superspies in suburbia, but there is no such sly observations or social commentary to be found in Keeping Up With the Joneses. Unfortunately, all we have here is a wacky situational comedy that too often relies on lead Zach Galifianakis' one-liners too lift it from the doldrums of the generic jokes and obvious pratfalls Michael LeSieur's screenplay is built on. LeSieur (You, Me & Dupree) seems the type of comedy writer who comes up with an interesting or funny enough scenario and then applies it to a familiar structure making the final product more predictable than laugh-inducing. That said, Keeping Up With the Joneses is about as good (and bad) as one would expect given the terrible trailers. It's familiar and overly safe, but the fun performances from each of the four leads lend it a spring in its step that otherwise would have left this thing dead on arrival. read the whole review at www.reviewsfromabed.com
Philip Price
Super Reviewer
Keeping Up With The Joneses Quotes
There are no approved quotes yet for this movie.
Discussion Forum
Discuss Keeping Up With The Joneses on our Movie forum!