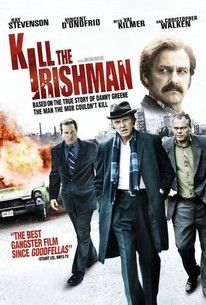 Kill the Irishman
2011, Crime/Drama, 1h 46m
53 Reviews
5,000+ Ratings
What to know
critics consensus
Kill the Irishman may not add much in the way of new ingredients to its crowded genre, but the admirable efforts of a solidly assembled cast add extra depth to a familiar story. Read critic reviews
Where to watch
Rent/buy
Rent/buy
Subscription
Rent/buy
Rate And Review
Movie Info
Mobster Danny Greene (Ray Stevenson) ignites a turf war in 1970s Cleveland that leads to the collapse of the Mafia in several major U.S. cities.
News & Interviews for Kill the Irishman
Audience Reviews for Kill the Irishman
Kill the Irishman deserves to be a top mafia movie, but it falls just shy of achieving of its potential because of some lapses in storytelling and depth, but it does get marks for realism and charisma. Ray Stevenson is a fine actor, but his accent jumps in and out during the movie. I couldn't quite tell if they meant for him to be completely Irish or assimilated American-Irish. Some of the characters aren't fleshed out as much as I would have liked who I felt deserved a good background or look into their personal lives a bit more. A few scenes were unnecessary as well that were sort of like jump cuts. However, the action is good and by the end you really feel for the mobster Danny Greene. Val Kilmer as the cop wasn't anything to write home about and Christopher Walken was, as always, a presence on screen in his brief time. It's funny cause most people in the mob are associated with New York or the North East and wouldn't give two looks toward Cleveland, but it deserves to be recognized for the impact it had on the world of organized crime.

Excellent movie about Danny Green and the Cleveland Mafia during the seventies. Lots of action will keep you interested all 1hr and 46 minutes. 4 1/2 Stars 3-1-13

As Detective Joe Manditski(Val Kilmer) recalls, Danny Greene(Ray Stevenson) never backed down from a fight in his life, even as a kid. As an adult, he finds one when working on the dockyards in the 1960's where he gets into it with union boss Jerry Merke(Bob Gunton). At the same time, Danny gets involved with the local mob to get a friend's gambling debt canceled which Merke tries to hold over him but to no avail. Danny's rule as union president does not last long, as union corruption is exposed and he is banned from the union for life but spared jail time. Having to support his wife Joan(Linda Cardellini) and three kids, he goes to work for Shondor Birns(Christopher Walken) and his numbers business. If "Kill the Irishman" borrowing heavily from Scorsese was the only problem it has, maybe you still might have had something. Based on a true story, there is probably enough material for a compelling crime movie. This is not it. All we get about Danny are some nice moments and anecdotal nuggets like his being extraordinarily hard to kill and well-read for a blue collar criminal. Part of the lack of detail here especially involves Cleveland, and ignoring the possible negative effect an explosive gang war might have had on the city. Ray Stevenson may look the part in the lead but sadly lacks a strong presence. That leaves it up to the supporting players, of which Christopher Walken and Fionnula Flanagan make the strongest impressions.

Ray Stevenson's performance is the best reason to watch this film. He definitely shines here. It was great seeing him in a role like this. I usually see him in films playing the villain or a sidekick. I didn't think he was great as the Punnisher but he was excellent here. I would love to see him do more leading man type of roles like this. The film I thought was so so. It needed a rewrite. I thought the voice over narration shouldn't have been from Val Kilmer's character, but rather from Ray Stevenson's character. The style of the film kind of felt like they were trying to copy Scorcese's mob films style. The film is well casted. Vincent D'Onofrio, Val Kilmer, Robert Davi, and Christopher Walken all deliver. I definitely recommend the film cause of Ray Stevenson's performance in it.
See Details