King Of The Travellers
(2012)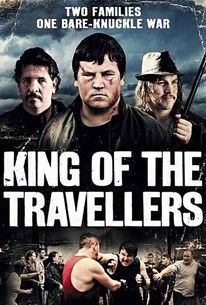 King Of The Travellers Photos
Movie Info
Set in the Irish Travelling community, King of the Travellers tells the story of John Paul Moorehouse and his journey to avenge the death of his father. The recent return of the Power family, who John Paul believes are responsible for his father's murder, ignites an old feud between the two rival families. However when John Paul falls in love with Puc Power's daughter, Winnie, he is faced with a dilemma. With war brewing, John Paul must decide between his love for Winnie and his duty to seek revenge for the death of his father.
Critic Reviews for King Of The Travellers
Audience Reviews for King Of The Travellers
½
As a child, traveller John Paul Moorehouse (Connors) saw his father gunned down. A rival traveller family, the Powers, had been thought responsible. When the Powers camp on ground near the Moorehouse halting site, the bad blood is once again stirred. Against the wishes of both families, John Paul rekindles a youthful romance with Winnie Powers (McGlynn), the daughter of the head of the Powers. When the unstable Mickey Moorehouse (Coonan) makes enemies in the local settled community, it brings trouble the family could do without. As John Paul investigates his father's death, he discovers the killer may be closer to home than previously thought. Those of you outside Ireland will likely be unfamiliar with the Irish subculture of travellers. Other cultures would know them as gyspsies, a nomadic people whose lifestyle has caused much controversy in this country. Ask any Irish person for their opinion on travellers and you'll get a passionate and often angry answer. The travelling community are keen to have a positive image of their way of life projected which makes the participation of actual travellers in this film so baffling. I struggle to recall a more negative screen portrayal of the travelling way of life. By aping the gangster films of Coppola and Scorsese, writer-director O'Connor has reinforced every negative stereotype surrounding these people. O'Connor's script is awash with every gangster movie cliche imaginable and at times veers uncomfortably close to unintentional comedy. A nod to the famous "I could've been a contender" scene from 'On the Waterfront' is particularly cringeworthy. O'Connor struggles with his writing but as a director he seems a natural. His film contains some of the most cinematic moments ever seen in Irish cinema. The first ten minutes reel you in with skillful coverage and editing. He also gives us something most film-makers deny us now, a legitimate credit sequence which really sets the mood of the piece. O'Connor and his cinematographer David Grennan pull off some very impressive tracking shots. One at a traveller wedding oozes cinematic cool. Amateur actor John Connors is a great find, the sort of face you don't see onscreen anymore, a bully-beef-Brando whose natural talent is undermined by poor dialogue. Conversely, professional thesp Coonan is the worst thing about this film, completely out of place in his role. If O'Connor can find a worthy script he could blow us out of the water in the future. I suspect his future lies outside his own country though.
The Movie Waffler
Super Reviewer
King Of The Travellers Quotes
There are no approved quotes yet for this movie.