Kingsman: The Golden Circle
(2017)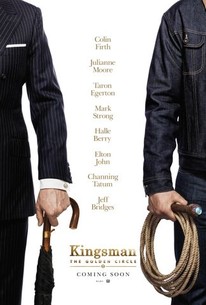 TOMATOMETER
AUDIENCE SCORE
Critic Consensus: Kingsman: The Golden Circle offers more of everything that made its predecessor so much fun, but lacks the original's wild creative spark.
Kingsman: The Golden Circle Videos
Kingsman: The Golden Circle Photos
Movie Info
"Kingsman: The Secret Service" introduced the world to Kingsman - an independent, international intelligence agency operating at the highest level of discretion, whose ultimate goal is to keep the world safe. In "Kingsman: The Golden Circle," our heroes face a new challenge. When their headquarters are destroyed and the world is held hostage, their journey leads them to the discovery of an allied spy organization in the US called Statesman, dating back to the day they were both founded. In a new adventure that tests their agents' strength and wits to the limit, these two elite secret organizations band together to defeat a ruthless common enemy, in order to save the world, something that's becoming a bit of a habit for Eggsy...
News & Interviews for Kingsman: The Golden Circle
Critic Reviews for Kingsman: The Golden Circle
Audience Reviews for Kingsman: The Golden Circle
½
I have to get something off my chest first by stating that there are times when I just have to disagree with what most critics are saying about a film, and Kingsman: The Golden Circle is definitely the latest film I'll be adding to that roster. Being a huge fan of the first film with how smart, funny, and entertaining it was, I had high hopes for this sequel, while knowing very well that it probably wasn't going to top it. That being said, this is a worthy successor in my opinion, and I feel as though it can be enjoyed in the same ways that the first was. Sure, the originality of it is thrown out the window, due to the fact that it shares very similar plot points, but if you care about the characters and are able to have fun, it really can't be all that bad. Even though it has many issues, here is why I believe Kingsman: The Golden Circle isn't getting enough credit. Pursued by an evil organization in The Golden Circle, the Kingsman are under attack and all of their bases have been destroyed. With nothing left to do but seek help, the remaining remnants of the once booming organization set out on their own. Eggsy and Merlin being the last two members, come across a group called the Statesman, who wants nothing more than to recruit them as one of their own and bring down this new and looming threat. While many of the elements of the original film are being rehashed here, it's all about being fun and having likeable characters, and I feel as though this sequel continues that in spades. Although there are many enjoyably fun aspects to this film, it's far from perfect, and that's where villain in Poppy comes into play. Her character, along with this new organization seemed very annoying to me. Their presence definitely moves the film forward in terms of story, but the idea of them and their overall execution felt very over-the-top and forced, even for a film like this. Kingsman: The Golden Circle is a film that suffers from having too many likeable protagonists and not anyone remotely intriguing as a villain. This made for a fun experience when the main characters were on screen, but there didn't seem to be any stakes. Going back to my original statement in saying that this film is very similar to the predecessor in terms of entertainment, that's easily the biggest takeaway I received from this instalment. Without giving too much away for those who have been completely oblivious to the promotional material for this movie, I have to say that the way certain characters are brought back into the forefront and how others ave their swam song was very satisfying in my opinion. Aaron Egerton remains a stellar performer in every role he's in, and this film is no exception. Although inconsistent at times, this sequel is still a blast to watch. In the end, the over-the-top style isn't for everyone, and if you didn't enjoy the first film, then I would have to recommend staying far away from this film, due to the fact that it's more of the same, just cranked up to eleven. Kingsman: The Golden Circle suffers from a poor villain storyline, but the addition of new characters showcasing some pretty terrific action sequences definitely make up for that aspect. This sequel won't be remembered as the superior film, nor will it be remembered as one of the best sequels out there, but when it comes to satisfying fans of a surprisingly fun first film, I feel as though this one does it's job nicely. It takes it to a few extremes that I didn't really appreciate, but overall, this is a solid time at the movies.
½
"Manners maketh man. Do you know what that means?" Two movies into the Kingsman franchise, I think I'm starting to understand the meaning of those words. Kingsman: The Golden Circle is the sequel to 2014's Kingsman: The Secret Service, both of which were directed my ¬X-Men: First Class's Matthew Vaughn. The original Kingsman currently holds its place as one of my favorite movies of all time, so I had high expectations for its sequel. So how did it hold up? The Golden Circle once again concentrates on Eggsy, the former Kingsman trainee who became an agent after the death of his mentor, Harry Hart, played by Colin Firth. Both characters are the focus of the movie, as Harry managed to survive his deadly encounter with Samuel L. Jackson's character in the previous film. Other characters include Mark Strong's Merlin, Julianne Moore's villainous Poppy, Elton John's Elton John, and Pedro Pascal's, Jeff Bridges', Halle Berry's, and Channing Tatum's agents of Statesman, Kingsman's American cousin of a spy organization. The characters in The Golden Circle are easily the strongest part of the film, with the only mediocre inclusions being Poppy and her henchmen, who are among the weaker villains that I've seen on-screen in recent years. Otherwise, the film features a strong ensemble cast of characters, and all of the actors play their parts well. For anyone that saw The Secret Service, they should remember the ridiculous, over-the-top, well-filmed action that highlighted the film. This over-the-top action is back in The Golden Circle, and it works just as well as it did the first time. The slow-motion shots, glossy cinematography, and exciting sequences all make their due appearance, and it is great. For me, the standout scenes were a car chase at the beginning of the movie and a sequence where Eggsy and Harry break into Poppy's jungle facility and kick some serious ass. If this is what you are expecting from The Golden Circle, you are not going to be disappointed. Unfortunately, I did not enjoy The Golden Circle as much as I thought I would, and I attribute that largely to the pacing and editing of the film. In comparison, its predecessor had very effective pacing, balancing out its numerous action scenes with scenes of great character development and plot thickening. It kept the movie fun and made it a good time to watch, which is the reason I love it so much. However, The Golden Circle struggles with this, including many scenes that prevents the film from gaining any momentum until the final act. Scenes of unnecessary character development, subplots, and complications that do not contribute to the main story all are suspects in creating this problem. The film could have easily shaved its 2 hour 21 minute runtime to something at least 20-30 minutes shorter, which would have made it much more watchable. I was also disappointed with the under-utilization of several of the characters, ones that were advertised heavily in the film's promotional material. I'll leave these people nameless so as to not spoil anything. Despite my complaints, I still had a fun time watching Kingsman: The Golden Circle, even though the fire alarms went off in the movie theater with only 10 minutes left in the movie. It is fun, irreverent, and quite ridiculous like its predecessor, and a movie I will probably watch again. It wasn't a necessary sequel by any means, but I am still happy it was conceived. Even with that in mind, however, I think 20th Century Fox should stop here and not try to milk the franchise for any more films. But as it stands, Kingsman: The Golden Circle is a fun time, and it gets 3 1/2 out of 5 stars.
Paul Fuchs
Super Reviewer
½
Though it doesn't match how great the original was, this is still a pure action fueled joyride.
Kameron Woodall
Super Reviewer
Kingsman: The Golden Circle Quotes
There are no approved quotes yet for this movie.
Discussion Forum
Discuss Kingsman: The Golden Circle on our Movie forum!