Koi... Mil Gaya (I Found Someone)
(2003)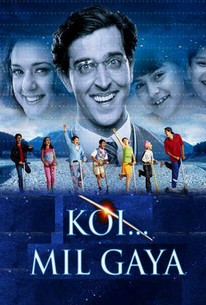 Koi... Mil Gaya (I Found Someone) Photos
Movie Info
A scientist (director Rakesh Roshan) invents a computer to send sounds into outer space. Using the sound "Aum," he makes contact with an alien life form, but his fellow scientists laugh at his claims. Despondent, he drives home with his wife (Rekha). A spaceship interrupts their journey, and causes the excited Sanjay to crash. He is killed and his unborn child is injured in the accident. Rohit (Bollywood heartthrob Hrithik Roshan) grows up brain-damaged. He's stuck in a class with much younger kids and longs to advance academically, but he continually flunks. On top of that, he and his young friends are frequently bullied by Raj (Rajat Bedi) and his gang of thugs. Then Nisha (Preity Zinta), a beautiful young woman, moves to town. After a couple of comic misunderstandings, Nisha takes an interest in Rohit. Rohit asks Nisha to teach him computers, and they dig up his father's old device, inadvertently sending another message into space. Soon, another ship arrives, and this time, a funny little blue alien is left behind. Rohit takes the little one in, and soon finds himself being magically healed. Suddenly, he can see without his glasses, and soon he develops a quick mind and superhuman strength. Not only that -- he can dance. So he and his friends call the alien "Jadoo." Raj grows jealous of all the time Nisha is spending with Rohit. He finds that now Rohit is strong enough to defend himself. But the authorities are searching for Jadoo, and Rohit is determined to keep his little friend safe, no matter what the cost. Director Rakesh Roshan last directed his son, Hrithik, in Kaho Naa...Pyaar Hai, the film that made him a star. The big-budget Koi...Mil Gaya was promoted as the first science fiction film to come out of Bollywood. ~ Josh Ralske, Rovi
Critic Reviews for Koi... Mil Gaya (I Found Someone)
Audience Reviews for Koi... Mil Gaya (I Found Someone)
This was just silly....and oddly like E.T. (but in a not so great way)
Cynthia S.
Super Reviewer
Shame on you Bollywood! This was the obvious stolen Idea of the E.T. Original Idea from the Master of the Movies Steven Spielberg.
½
In second half of the movie, is a scene, in which Rohit Mehra is participating in dance competition. His last four attempts, to dance with vigor and compassion have failed, he is down on ground. Every one around him is yelling at him to give up, even his heartthrob says "Give it up, you can't do it". He is adamant, says standing up, "no, I can do it, give me one more chance, start the music". And he makes it happen, in the movie, at least. But, is it going to happen in real life, is Rakesh Roshan found in sci-fi movie with a liberal dose of comedy and action, that elusive hit for Hrithik Roshan. With Koi... Mil Gaya, director Rakesh Roshan has proved two things. One, he truly can give Hrithik Roshan a role to chew into and two, it takes guts and gumption to make a really 'different' movie within the commercials parameters of filmmaking. Koi... Mil Gaya is an immensely enjoyable movie. The special effects may come across as child''s play and Jadoo may look like a small child disguised as an alien but it still manages to touch your heart. The movie gives many reasons to smile. First and foremost, it looks very fresh, including the freshly scrubbed Preity Zinta. The breathtaking locales of Nainital and Canada provide ample visual relief. The cinematography by Ravi Chandran and Sameer Arya is awesome. The music by Rajesh Roshan though not in the league of Kaho Naa Pyaar Hai is still hummable, especially the title track and the superbly choreographed Idhar Chala number. The dialogues by Javed Siddiqui (some of the lines actually bring a lump in the throat) and the screenplay (Sachin Bhowmick, Honey Irani, Robin Bhatt and Rakesh Roshan) too are above average. Last but not the least, Koi... Mil Gaya sees some wonderful performances by Rekha, Preity Zinta and Mukesh Rishi. And of course, Hrithik Roshan who lends his all to Rohit Mehra. It''s very obvious that Hrithik Roshan has enjoyed playing the mentally-challenged-boy-transformed into-your-regular-hero immensely. He plays the character without any inhibitions and succeeds in involving you in his life. Your heart really goes out to Rohit Mehra.
Steven Vincent Gee
Super Reviewer
Koi... Mil Gaya (I Found Someone) Quotes
There are no approved quotes yet for this movie.