Kronos
(1958)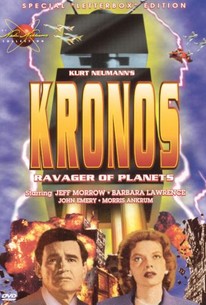 Movie Info
In this Kurt Neumann sci-fi thriller, a 100-foot-high metal alien named Kronos is sent to Earth to absorb the energy necessary for the continued survival of the civilization who created him; the more energy Kronos sponges up, the larger he grows.
Critic Reviews for Kronos
Audience Reviews for Kronos
This film Quality was about the best I have ever seen for Black and White. Must of been a high budget film back in the day. Some great scenes of early Air Force Aircraft, not sure that shots like these can be seen anywhere else. The Main Theme Monster was a little to simple for such great acting. One question when the UFO turned on the magnetic field why did only the doctors glasses move across the surface and not the helicpter? A Rental, I'll past on adding it to my collection.
Bruce Bruce
Super Reviewer
Interesting concept but poorly exectued...slow pacing, some awful sound effects and not much dramatic tension....acting is sub-par with a predictable ending.
Kronos Quotes
There are no approved quotes yet for this movie.