La Cara Oculta
(2012)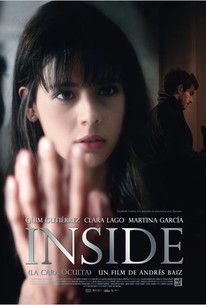 Movie Info
A Spanish orchestra conductor deals with the mysterious disappearance of his girlfriend.
Critic Reviews for La Cara Oculta
Audience Reviews for La Cara Oculta
What seems to begin as a ghost story full of the most basic, worn-out clichés soon turns out to be an ironic, claustrophobic and original idea that cleverly plays with the conventions of the genre, even if it ends though on an unsatisfying note.
Carlos Magalhães
Super Reviewer
½
The Hidden Face unfolds like a typical ghost story in an eerie haunted house. For the first half, it basically is. However there is more to this picture than meets the eye. Director Andrés Baiz, who co-wrote the screenplay, has fashioned a fascinating fable. The modern mansion is photographed with an appreciation for its beauty, but also evokes something sinister. Actor Quim Gutiérrez who portrays our lead protagonist is pretty bland unfortunately. A more dynamic personality would've been preferable, but Martina García and especially Clara Lago are attractive support that engage the emotions. The drama plays with expectations and has at least one surprise that is completely unforeseeable. Warning: Don't watch the trailer. It spoils everything. It's a most unusual love triangle built on insecurity, mistrust and jealousy. An enjoyable thriller that entertains with its creepy twists. fastfilmreviews.wordpress.com
Mark Hobin
Super Reviewer
½
This is the type of movie that really shouldn't be spoiled, it's a really clever and inventive twist on the old suspense film. It starts out pretty conventionally with Adrian's ex-girlfriend disappearing and his current girlfriend experiencing strange goings-on in the house, which she initially thinks are ghosts. It sounds like 10+ movies you've already seen, but this is a movie that rewards you for sticking with it with, as mentioned, an inventive twist that adds a lot to the film. I think that if it wasn't for this little twist, that adds a lot of intrigue and motivation for the characters, the film, while still good, would've felt like every other suspense/thriller film out there. With the movie being the way it is, I think it manages to stand above the pack, even if it's just a tiny bit. The movie isn't without its issues, I think the pacing for the first part of the film isn't up to snuff. There is a plot-hole, but that isn't really that big of an issue for me. You can find plot-holes in almost every film, so as long as they're minor it shouldn't be too big of an issue. But, I certainly enjoyed this movie...probably much more than I expected thanks to its story, cast, and writing. I'd recommend it. This isn't a particularly good review, since I tried my best to not reveal any story details, which would've spoiled everything. But know that it is a very good film.
Jesse Ortega
Super Reviewer
La Cara Oculta Quotes
There are no approved quotes yet for this movie.