La La Land
(2016)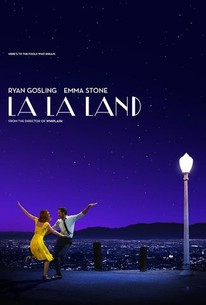 TOMATOMETER
AUDIENCE SCORE
Critic Consensus: La La Land breathes new life into a bygone genre with thrillingly assured direction, powerful performances, and an irresistible excess of heart.
Movie Info
Written and directed by Academy Award (R) nominee Damien Chazelle, LA LA LAND tells the story of Mia [Emma Stone], an aspiring actress, and Sebastian [Ryan Gosling], a dedicated jazz musician, who are struggling to make ends meet in a city known for crushing hopes and breaking hearts. Set in modern day Los Angeles, this original musical about everyday life explores the joy and pain of pursuing your dreams.
News & Interviews for La La Land
Critic Reviews for La La Land
Audience Reviews for La La Land
In La La Land the "City of Angels" is reimagined through the glorious sheen of the late 40s/early 50s Hollywood musical. For examples, watch An American in Paris, Singin' in the Rain, or The Band Wagon to see what I mean. What makes Chazelle's 3rd feature so incredible is how brilliantly he understand how to reference history. He skillfully recontextualizes the vernacular of the American musical for the modern age. The exquisite score by Justin Hurwitz, elaborate production design by David Wasco, those costumes by Mary Zophres, the Technicolor, the romance - La La Land's aesthetic borrows from history but the time period and the characters are rooted firmly in contemporary society. 2016 is all here: cell phones, Hybrid vehicles, the part-time job as a barista. Chazelle makes our present era seem so much more magical. There is an exuberant quality I haven't seen recently. Mia and Sebastian radiate sweetness too. This uncorrupted pair shares a purity. You want them to be together. Their emotion is real. You fall in love. This why we go to the cinema. If I may paraphrase a famous expression once said by Humphrey Bogart, La La Land is the stuff that [movies] are made of. It is sublime. fastfilmreviews.com
Mark Hobin
Super Reviewer
Very well made, though I don't generally like musicals and there is nothing in the songs here to change my mind. Emma Stone is fantastic as always. The story felt flat at the end. That is to say I really didn't like it. Very meh and was a let down to a decent build up.
Nicki Marie
Super Reviewer
The Hollywood musical has all but become a thing of the past and a genre that few filmmakers attempt anymore. If I'm honest, it's really no loss to me. Musicals are not something that I'm overly enthusiastic about. Growing up, I remember liking Grease and contemporary ones like Baz Luhrmann's Moulin Rouge and, especially, John Turturro's Romance and Cigarettes were very enjoyable but, for the most part, I often overlook them. That said, with a record equaling 14 Oscar nominations and a record breaking 7 Golden Globe wins, Damien Chazelle's follow-up to the impressive Whiplash can not be scoffed at. Plot: Mia (Emma Stone) is an aspiring actress in Hollywood struggling to catch a break. Sebastian (Ryan Gosling) is in the same boat as he dreams of getting out of playing cocktails bars and becoming a serious jazz musician. Their paths cross and as their relationship blossoms, they are faced with either stardom or holding onto true love instead. Song, dance, razzmatazz and Jazz are what's on the menu with Chazelle's latest. Whether you enjoy musicals or not will most likely play a huge part in your enjoyment of it, though. Technically, it's wonderful and Chazelle has a real handle on his musical numbers and choreography. It's also quite beautiful to behold. There's no arguing with the style on show here as it's quite a dazzling picture. However, there's very little substance underneath it's style. It suffers from a generic romantic plot and there's a few too many musical ditties to cover up it's glamorously dull narrative. I actually think I might have enjoyed it more had it been tighter. For a start it's way overlong and overstays it's welcome by a good half hour. There isn't enough material here to warrant its 2hrs 8mins running time. In fact, Chazelle really wrings the material out at the end. To paraphrase one of my six-year-old daughter's more unusual quips: 'He held onto this like he was strangling a baby's neck'. Don't get me wrong, though, the end sequence cleverly brings things full circle and doesn't succumb to formula but I got the distinct feeling that Chazelle never wanted it to finish. Like a rebuffed lover, he refused to let go. And who can blame him when he's having so much fun? I, on the hand, had had enough by that point. This being said, it is hard to be unkind to the film as there's an obvious array of quality on display; David Wasco's production design is a sumptuous palette of colour and Linus Sandgren's cinematography captures it beautifully. It's also got two delightful lead performances; Gosling showcases some genuinely impressive piano skills while Stone delivers a wide range of abilities and both of them display an adeptness at their song and dance routines. Credit where it's due, Chazelle has successfully brought the musical into the modern era with this, unashamedly, nostalgic piece. It's a charming film but not one that excited or entertained me as much it has others. Those that enjoy romantic or musical films will find much more to embrace here and will, undoubtedly, rank it higher than I have. I can't argue with that and I can't say it's a bad film. I appreciated it for what is but musicals in general don't really have me singing from the rooftops. Mark Walker
Mark Walker
Super Reviewer
La La Land Quotes
There are no approved quotes yet for this movie.
Discussion Forum
Discuss La La Land on our Movie forum!