Ladies They Talk About
(1933)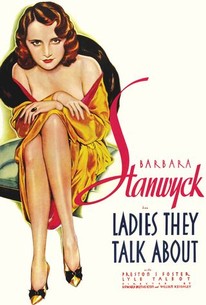 AUDIENCE SCORE
Critic Consensus: No consensus yet.
Ladies They Talk About Videos
Ladies They Talk About Photos
Movie Info
One of the earliest girls-in-prison yarns, Ladies They Talk About has everything but Ida Lupino as the warden--and had she been in Hollywood at the time, she would probably be here as well. Gun moll Barbara Stanwyck is thrown into San Quentin (which looks more like a summer resort than a house of detention), thanks to her involvement in a bank robbery and the machinations of D.A./preacher David Slade (Preston Foster). It isn't political ambition that motivates Slade: he's in love with Stanwyck, and hopes that her incarceration will rehabilitate her. Instead, Stanwyck becomes a hard-bitten prison-block leader, spearheading a jailbreak. When things go awry, she holds Slade responsible. Upon her release, she goes gunning for Slade, and doesn't realize that she's really in love with him until she nearly puts him six feet under.
Critic Reviews for Ladies They Talk About
All Critics (2) | Fresh (1) | Rotten (1)
This film's only claim to fame was that it established the WIP genre film.

Ozus' World Movie Reviews
[Stanwyck is] absolutely stunning, and even if the rest of the film wasn't any good (although it was), she really made it worth watching.

Audience Reviews for Ladies They Talk About
½
OK early prison drama featuring the stupidest romantic entanglement of the decade as gangster moll Stanwyck eventually falls for the clumsy long-distance charms of the religious politico who sent her to San Quentin for 2-5 years as accessory to robbery. "Have fun in the slammer, I'll be here when you get out." Riiiiiiiiiight. Barbara + some fun supporting characters help pass the time, and hey, it's the original women-in-prison flick and actually (sub)named "Women In Prison"!
Doctor Strangeblog
Super Reviewer
Saucy little number put across by Barbara Stanwyck with her customary grit. A prototype for women behind bars pictures the film moves at a solid clip and packs a lot into its brief running time. They even find a chance to have Lillian Roth sing! Foster is a dull lead but the other players all contribute good work. Holds up well until the questionable denouncement.
An enjoyably daft prison drama in which Barbara Stanwyck plays a career criminal who takes the fall for a bank robbery and ends up in San Quentin. Of course, all she needs is the love of a good moral crusader to keep her on the straight and narrow... It would be an understatement to say that the plot could have been worked out on the back of a cigarette packet; quite frankly, I'd be amazed if anybody troubled to write it down. It's also tempting to groan at the hoary old clichés till you realise that some of them were probably being minted here for the very first time. My favourite of several moments of unintentional hilarity is the one where two of Babs' associates attempt to tunnel through to her cell from the neighbouring men's prison and she disguises the racket they are making by playing loud music in the middle of the night. "How did such a criminal mastermind ever end up behind bars?" I hear you cry. Minor Stanwyck but her performance is as committed as ever.
Ladies They Talk About Quotes
There are no approved quotes yet for this movie.
Discussion Forum
Discuss Ladies They Talk About on our Movie forum!