Laserblast
(1977)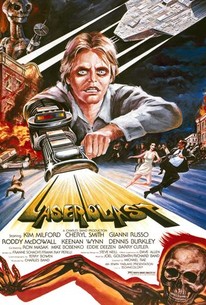 AUDIENCE SCORE
Critic Consensus: No consensus yet.
Movie Info
Billy (Kim Milford) has the same problems that many teens have to endure. His mother is inattentive, local cops target him for speeding tickets, his girlfriend's grandfather hates him, and teenaged bullies make fun of his van. Billy finds the keys to his emancipation in the desert, when he stumbles across a laser gun left behind by a pair of aliens. As he exacts revenge upon his unsuspecting tormentors, he becomes overwhelmed by the power of the gun and turns into a crazed, green-faced monster.
Rating:
PG
Genre:
, ,
Directed By:
Written By:
In Theaters:
On DVD:
Runtime:
Studio:
Irwin Yablans Company
Critic Reviews for Laserblast
Audience Reviews for Laserblast
Easily the worst sci-fi movie ever made, or at least the worst I have ever seen, on par with Plan 9 From Outer Space in horribility (is that even a word? It is now!). Honestly, not even worth ripping the nonexistent script, the even more nonexistent plot, and the EVEN MORE NONEXISTENT acting...
Private User
I decided to watch this movie because today is May the Fourth (Star Wars Day) and this movie's poster (not the one on Rotten Tomatoes for some reason) made it seem like a horrible Star Wars rip off. While not an entirely accurate presumption, it is every bit as terrible as it advertises. Laserblast is about Billy, a pouty kid who gets picked on by the police and the other local kids who make fun of his molester van. In frustration one day he stumbles upon a magical pendant and laser, that basically looks like a giant kazoo that he wears over his arm, left over by some aliens that he discovers can be used to extract revenge upon his tormentors. He's basically a combination of Luke Skywalker, Robert Plant and Bruce Banner in that he looks like Mark Hamill, walks around with his shirt unbuttoned all the time and when he gets mad he turns green and kills people. Once he starts blowing things up he attracts the attention of the local keystone cops and the aliens who then try to find him. It's basically a lot of scenes featuring cars being parked, van doors being opened, and Billy running around aimlessly like the Wolfman trying to find his next target. Never explaining anything and full of scenes that seemingly have no connection or relevance to anything that's going on and filmed in what looks like the Apocalyptic backdrop of where they shot "Manos: The Hands of Fate," this is a perfect storm of cinematic incompetence. It's no wonder the MST3K guys saved this for what they thought might be their last episode ever. Also drawing from Manos, they also featured the same horrible technique of trying to film night scenes in pitch black conditions where you can't actually see anything. This one was hard to get through even with the MST3K commentary. This movie should have just starred Jim Varney and been called "Ernest Finds a Laser." It would have been more high-brow and intellectual that way.
Larry Cenotto
½
An extremely low budget sci-fi film, with a couple of well known actors here and there who don't have any good lines, for example Roddy McDowall who appears in about two scenes, which is very disappointing. The movie is slow and meandering for the most part, and the story is too simple. Plus, the main character is stupid and annoying. I wouldn't recommend seeing this movie, it's just horrible.
Laserblast Quotes
There are no approved quotes yet for this movie.