Last Day of Summer
(2010)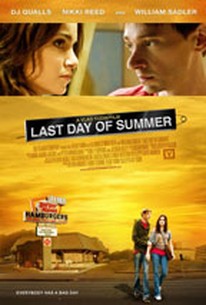 Last Day of Summer Photos
Movie Info
Frustrated fast food employee Joe (D.J. Qualls) eschews his plan to seek revenge against his sadistic boss (William Sadler) after exchanging glances with pretty customer Stephanie (Nikki Reed), and kidnapping her on a whim.
Critic Reviews for Last Day of Summer
Audience Reviews for Last Day of Summer
Didn't mind this, but is definitely not what it appears to be. It is marketed as a horror, or thriller movie, but it is more of a drama and nothing that drastic ever happens, as you would be set up to believe. I was initially disappointed at the point where Stephanie and Joe part ways, but I liked the part where he confronted his ex boss and the decision he made - it seemed like he had learnt something. D J Qualls has an unusual appearance and I think he is quite compelling on screen. Nikki Reed I am never that impressed with, and here no exception. I just always think she looks really old and hard. I couldn't buy the bit where Joe expressed disbelief at the idea she had a five year old son (as she's supposedly too young) - hell, I could believe she had a ten year old! I guess she is not too bad an actress, but yeah, something about her usually doesn't work for me in movies. Still, quite an original movie and had the guts not to be gory or aim for the torture porn movie, I guess. Have to give them some credit there!
Nicki Marie
Super Reviewer
½
The story of Joe (D.J Qualls), who is convincing as a tortured and believable loser working as a janitor at a fast-food restaurant named Burger Haven. On the day he's fired, Joe's finally had it, and he buys a gun with which to go back and go postal but his plans to take revenge on the boss who's tormented and embarrassed him go awry when he kidnaps a female customer played by Nikki Reed (of The Twilight Movies).
Last Day of Summer Quotes
There are no approved quotes yet for this movie.