The Late Show
(1977)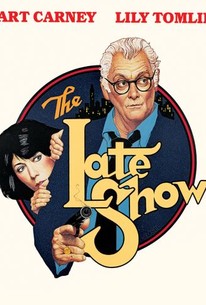 Movie Info
Robert Benton's film The Late Show stars Art Carney as Ira Wells, an over-the-hill private detective who reluctantly teams with the eccentric Margo Sperling (Lily Tomlin) to solve the murder of his partner Harry Regan (Howard Duff).
Critic Reviews for The Late Show
Audience Reviews for The Late Show
Nice bit of Film Noir with Carney as an aging PI getting mixed up with the nutty Lily Tomlin to find who killed his former partner. Plot may sound familiar, but it's all in how it is pulled off, plus the chemistry of the stars. Much more violent than expected, but that just adds to the gritty realism. Highly recommended for fans of the genre and for fans of the two stars.
Anthony Valletta
Super Reviewer
Robert Benton's sardonic, affectionate homage to the private-eye films of the 40's and 50's. it benefits greatly by the moving, magnificent performance by the late great Art Carney, playing a washed-up, aging private eye determined to solve one tantalizing case, after his one time partner is murdered. Carney vows to get the killer, but the trail begins with Lily Tomlin, in a delightful performance as a flaky ex-hippie, who stolen cat Carney's partner had been hired to find. Tomlin starts off trying to hired Carney, who at first wants nothing to do with her, but then has a change of heart, and soon she turns into his dizzy sidekick, they have real nice quirky chemistry together. The film is filled with wonderful plot-twists that include blackmail, murder, double-crosses and philandering wives. The major success of this film is due Robert Benton, who made his impressive directorial debut with this fine film, and wrote the brilliant original screenplay. A sadly underrated gem, that is a true winner! Highly Recommended.
Danny Rovira
Super Reviewer
½
Charming crime comedy with Carney and Tomlin a wonderfully off beat pair, their chemistry makes this a delight. A real sleeper.
The Late Show Quotes
There are no approved quotes yet for this movie.