Lenny
(1974)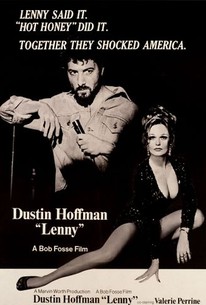 Movie Info
Adapted by Julian Barry from his own Broadway play, this film manages to be both brutally frank and highly romanticized in detailing the life and career of influential, controversial stand-up comedian Lenny Bruce. The chronology jumps between Lenny in his prime and the performer in the twilight of his life.
News & Interviews for Lenny
Audience Reviews for Lenny
Lenny Bruce: Did you know that Eleanor Roosevelt gave Lou Gehrig the clap?  "Lenny's Time Has Finally Come." Lenny is a decent biopic of an interesting man. It has its problems though. It is extremely fragmented and poorly paced. Overall it is still well worth a watch though, because of an amazing performance from Dustin Hoffman. He plays the controversial comic with great power.  I think I would have liked this movie much more had I not seen Star 80 first. Star 80 and Lenny are pretty much identical structurally, but Star 80 is more involving and more entertaining. Both are made in fragments, with interviews in the middle of scenes to make it feel like a documentary. Both also take a not so glamourous look at a form of media or show business and both end in tragedy.  Lenny is interesting because we get fragments of Lenny's life intermixed with actors playing people he knew giving interviews, and also Lenny doing his stand up routine when he was young and old. As he is old, he stops telling jokes and more or less tells the plot of the movie. He tells about how he got arrested all the time for saying obscene jokes and making obscene gestures. He reads police reports and says why everything he has gotten arrested for is stupid.  Today Lenny doesn't seem all that controversial. If you watch the comics of today side by side Lenny; he would be considered the cleaner comic. This film isn't great, but it is still an interesting look at an interesting man. Fosse would take this structure and make an even better movie later in his career.
Melvin White
Super Reviewer
Dustin Hoffman teams up with one of the most tragic figures in modern moviemaking, Bob Fosse, to bring us a biopic of one of the greatest, most influential and most controversial stand-up comedians of our age, Lenny Bruce. First and foremost, Hoffman as Bruce was one of the greatest casting decisions of this film. He plays his part with cunning, energy, cynicism and reality, truly taking the trials and tribulations of Bruce to razor-edge effect but also including in great detail and care in appropriately displaying the extent of Bruce's darkness as a person and his many foul actions toward others in his life (friend, foe, and family). Fosse's direction is not perfect, however it is conducted with such an objective point of view in such a documentary style that it is hard to be sucked in by the realism of the film. Julian Barry's screenplay based off his own play is sharp, quick-witted and as honest as the material given. Though the screenplay shirks on much of the material needed to explain the overall controversy of Bruce's career and lifestyle, it makes up in drama and human connection of all others associated with Bruce's life and eventual tragic death. You feel with Bruce as these things happen, but at the same time find many reasons why Bruce is so hard to like (his frequent adultery, excess and harsh drug abuse that dragged many of his family down into the drain with him). A fabulous film that deserves far more recognition than it is given it in contemporary America. Along with George Carlin and Richard Pryor, who would emerge about a decade later observing the same language and hypocrisies of the American attitude and mass media in the world of censorship (large or small), Lenny Bruce is one of the most important influences of the rights of free speech and the American culture as a whole, and this film does him the justice he deserves, though it still could have pushed the envelope even more.
Matthew Roe
Super Reviewer
½
The lines between fact and fiction blurred again and again, making a point to show Bruce's extreme drug use, profanity, and Bruce's life, as some tawdry jaunt into a life of drugs and court dates, his act the backdrop. Bruce was more than his act, and this is exemplified by his emotional scenes with his druggie, stripper wife Honey, and his care and concern for his daughter, Kitty. Throughout the film snippets of Bruce's act are thrown in (performed by Hoffman) to show the influences of his life on his act, speaking out against racism, sexism, and censorship in the 60's, coming off trials on Communism and the X-rating of Midnight Cowboy. Though the performances of Hoffman and Perrine were genuine, heartfelt, and laced with a brand of humor that is realistic and a true portrayal, at times there was frivolity that could have been hampered. Bruce comes off as complex, and that is what he was, so to Hoffman I give considerable kudos.
Spencer S.
Super Reviewer
Lenny Quotes
| | |
| --- | --- |
| Lenny Bruce: | l'm not anti-Christ or anti-religion, l just think it's encouraging that people are leaving the Church and going back to God. |