Lethal Weapon 2
(1989)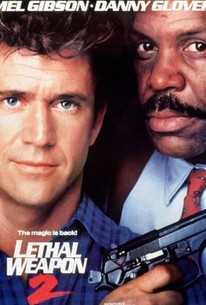 TOMATOMETER
AUDIENCE SCORE
Critic Consensus: Lethal Weapon 2 may sport a thin plot typical of action fare, but its combination of humor and adrenaline, along with the chemistry between its leads, make this a playful, entertaining sequel.
Movie Info
This high-voltage sequel continues the adventures of Los Angeles detectives Riggs and Murtaugh (Oscar-winner Mel Gibson and Danny Glover) as they try to thwart a smuggling ring of blond South African "diplomats". Gibson finds romance this time around, and Academy Award- winner Joe Pesci ("GoodFellas," "My Cousin Vinnie") joins the team as fast-talking con artist Leo Getz. "At the Movies" calls this "...Pure dynamite!...a summer blockbuster with enough humor, excitement and action for two movies," while Roger Ebert praises "...Terrific... entertaining from one end to the other." Gene Shalit sums up all the cheers, calling it "...even more fun than the original ...directed at a mile a minute by Richard Donner...lots of laughs.
People Who Like this movie also like
News & Interviews for Lethal Weapon 2
Critic Reviews for Lethal Weapon 2
Audience Reviews for Lethal Weapon 2
½
A sequel that's just as good as the first one. It's the continuation of the adventures of the likable duo of Riggs and Murtaugh. It retains everything that made the first movie great and then some. Now we have Joe Pesci playing Leo Getz, the irritating yet harmless tag along. This one even packs some more emotional punches into it, turning it into a revenge-buddy cop-thriller. In the beginning, it drops you straight into the action and doesn't lose your attention for the rest of the film, ending on an emotional yet comical note. Lethal Weapon 2 is a great sequel. Letter Grade: A
Chris Miele
Super Reviewer
½
Roger Murtaugh: It's just been revoked!  "The magic is back!" Lethal Weapon 2 is just as entertaining, just as fun, just as funny, and just as thrilling as the original. The first one is a classic, but I like this one as much, if not slightly more than the first. The character development from the first one is over, and now it is all action. This actually has more action than the original, and the original had a shit load of action. The two main actors are back, Mel Gibson and Danny Glover, along with a new, familiar face; that being Joe Pesci. Whenever Pesci is in a film, you know it's going to be all the more better for having his presence. He plays a different type of character than I am used to seeing from him, but still he's good.  This revolves around the same core plot as the first. Two cops are on a case. This time they are dealing with some South Africans. Also, Riggs falls in love with a secretary that's working for the South African diplomat. The story is even more engaging than the first, in my opinion. It has just about everything movies like this need. As far as buddy cop movies go, it's hard to beat the first two movies in this classic franchise, or it's two cops; Murtaugh and Riggs. This is the cop duo.  This has to be considered another staple of the genre. The first two movies in this series pretty much define the genre. They have all the violence, explosions, and chases that they could possibly throw into the runtime. This movie is slightly longer than the first, but you won't notice. It runs like a sprinter. It starts fast with a chase scene , and doesn't stop until it reaches the finish line. Martin Riggs: I'm not a cop tonight, Rog. This is personal. 
Melvin White
Super Reviewer
Riggs and Murtaugh investigate the staff of a South African consulate who are hiding behind their diplomatic credentials to perpetrate organised crime. The same team who brought you the original formula of testosterone soaked, adolescent pleasing action and wise cracks returns with exactly the same blend of destruction, homophobic quips, female nudity, car chases and torture that scored so big with the box office. And if you thought the first film was a bit too subtle and sophisticated, it introduces exploding cars, machine guns, helicopter gunships and baddies who are not only evil, sadistic bastards, but RACIST, evil, sadistic bastards, right from the get go. And an exploding toilet. Patsy Kensit is a bit of an insipid love interest and Joe Pesci's constant nasal yammering irritates rather than amuses so it's not quite as good as the first film, but it's close enough to please its fans.
Lethal Weapon 2 Quotes
| | |
| --- | --- |
| Martin Riggs: | Come on! We're back! We're bad! You're black, I'm mad! |
| | |
| --- | --- |
| Roger Murtaugh: | (After killing two assassins with a nail gun) Nailed them! |
| Roger Murtaugh: | [after killing two assassins with a nail gun] Nailed them! |
| | |
| --- | --- |
| Roger Murtaugh: | Its just been REVOKED!! |
| Roger Murtaugh: | It's just been REVOKED! |
| Roger Murtaugh: | Its just been REVOKED! |
| | |
| --- | --- |
| Roger Murtaugh: | It's just been revoked. |
Discussion Forum
Discuss Lethal Weapon 2 on our Movie forum!