The Lickerish Quartet
(1970)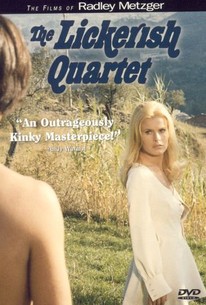 Movie Info
Master of sophisticated sexploitation Radley Metzger directed this elegant and thoughtful erotic drama. A wealthy and jaded couple living in a palatial Italian villa (Erika Remberg and Frank Wolff) spend an evening watching pornographic films with their adult son (Paolo Turco). Looking for a change of scenery, the family visits a carnival where they see a stuntwoman performing tricks on a motorcycle. When she removes her helmet, they're surprised to discover that the stunt rider appears to be one of the "stars" of the film they watched earlier, except that her blonde hair has turned dark. They invite her back to the villa, only to find out that the images in the film seem to have changed, and the face of the woman onscreen is no longer recognizable. Eventually, the strange woman begins to interact sexually with the mother, father, and son as they walk a fine line between reality and illusion. As with most of his work, the American-born Metzger shot this film in Europe with cinematographer Hans Jura, whose rich color images add immeasurably to this film's impact.
Critic Reviews for The Lickerish Quartet
Audience Reviews for The Lickerish Quartet
If there is such a thing as highbrow smut, this is it. A wealthy middle-aged couple gets their kicks from watching stag films with their teenage son (n-i-i-ice) and provide MST3K-style commentary 20 years BEFORE there was a Satellite of Love. When attending a local carnival, they think the female motorcyclist is one of the girls from the latest film, so they invite her back to their estate. Whatever they were expecting to happen goes off the rails and down the rabbit hole. Flashbacks, flash-forwards, flash-upside-downs, films-within-films, and a whole smorgasbord of surrealism takes hold. An instruction manual for jet engine repair written in Chinese would be easier to make sense of than this story, but hopefully that's the intention. There's enough consistent weirdness happening that I couldn't turn it off even through the slower bits, and at best it's a Kia going uphill. Mystery girl Silvana Venturelli looks amazingly similar to model Vendela which I count as a plus, but the son's horrible acting and Eric Forman hair warrant a minus. Here's a single-line alliterative review: backseat Bunuel with boobs.
Doctor Strangeblog
Super Reviewer
Now THIS is how you make an erotic film. Beautiful cinematography, an intriguing storyline with fantastic aspects to it and a very sparse use of overt sexuality. I really dug this one. It's quite existential and also a very beautiful film.
Tim Salmons
Super Reviewer
The Lickerish Quartet Quotes
There are no approved quotes yet for this movie.