Lifeboat
(1944)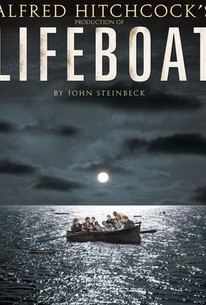 Movie Info
Seeking a creative challenge after several years' worth of fairly elaborate melodramas, director Alfred Hitchcock stages all of the action in Lifeboat in one tiny boat, adrift in the North Atlantic. The boat holds eight survivors of a Nazi torpedo attack: sophisticated magazine writer/photographer Constance Porter (Tallulah Bankhead), Communist seaman John Kovac (John Hodiak), nurse Alice MacKenzie (Mary Anderson), mild-mannered radio-operator Stan (Hume Cronyn), seriously wounded Brooklynese stoker Gus Smith (William Bendix), insufferable-capitalist Charles Rittenhouse (Henry Hull), black-steward George Spencer (Canada Lee) and half-mad passenger Mrs. Higgins (Heather Angel), who carries the body of her dead baby. This adroitly calculated cross-section of humanity is reduced by one when Mrs. Higgins kills herself. After a day or so of floating aimlessly about, the castaways pick up another passenger, Willy (Walter Slezak), who is a survivor from the German U-boat. At first everyone assumes that Willy cannot speak English, but when the necessity arises he reveals himself to be conversant in several languages and highly intelligent; in fact, he was the U-boat's captain. As the only one on board with any sense of seamanship, Willy steers a course to his mother ship, while the others resign themselves to being prisoners of war. After it becomes necessary to amputate Gus's leg, Willy decides that the burly stoker is excess weight; while the others sleep, he tosses Gus overboard, watching dispassionately as the poor man drowns. When the rest of the passengers discover what he's done, all of them (with one significant exception) violently gang up on Gus, and once more, the lifeboat drifts about sans navigation. ~ Hal Erickson, Rovi
Critic Reviews for Lifeboat
Audience Reviews for Lifeboat
½
An engaging chamber movie in which all action takes place inside a lifeboat, impressing us most with its technical achievement (if there was any doubt about Hitchcock's directing skills before it, this film certainly removed it) and Tallulah Bankhead standing out in a great cast.
Carlos Magalhães
Super Reviewer
½
Hitch was still only pleasing the masses (and not flagrantly indulging his own peccadillos as openly as yet), and here is an exemplary example of him at his best. Grim survival is the game, and survival in a group, with a group, only somebody's not playing fair ... riveting from opening credits to coda. Highly recommended (as a buddy of mine is fond of saying, but I'm not sayin' who).
Kevin M. Williams
Super Reviewer
Not one of Hitchcock's best but still worth watching
Bruce Bruce
Super Reviewer
Lifeboat Quotes
There are no approved quotes yet for this movie.