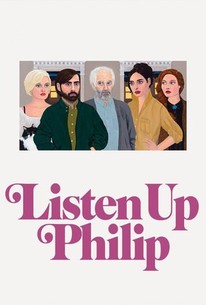 Listen Up Philip
2014, Comedy/Drama, 1h 49m
135 Reviews
2,500+ Ratings
What to know
critics consensus
As thought-provoking as it is uncompromising, Listen Up Philip finds writer-director Alex Ross Perry taking a creative step forward while hearkening back to classic neurotic comedies of '70s cinema. Read critic reviews
You might also like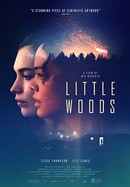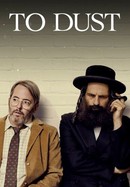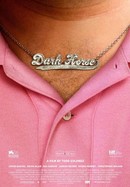 Where to watch
Rent/buy from $2.99
Free
Rent/buy from $2.99
Rent/buy from $4.99
Rate And Review
Movie Info
After refusing to promote his eagerly awaited second novel, a self-absorbed writer (Jason Schwartzman) takes up residence at the home of his literary idol (Jonathan Pryce).
Audience Reviews for Listen Up Philip
Listen Up Philip is something of a rarity in the sense that it means to appear to have itself completely together yet be about a man who can't figure himself out despite his composed, external appearance. The titular character being a narcissistic albeit creative individual with a short fuse and a big mouth is about as pompous as you could imagine while having something of the credulity to act as such, but not enough notoriety to have earned it. This is to say that it presents its main character in an honest and brutal way with a sleekness that oozes through every piece of dialogue, but is so specifically calculated we realize from the beginning it is making up for so much that Philip is ultimately lacking. That the effort he puts into consistently sounding superior in intelligence and in life in general is so draining that it must serve as the most urgent of responsibilities if he's unable to let the actions of his life speak for themselves. That said, writer and director Alex Ross Perry (who I've not seen any of his previous work) does allow for a surprising amount of telegraphed emotions beyond his elegant dialogue that so exactly captures the spirit and mindset of those who believe they are entitled to more because they possess more talent than the common man. Philip Lewis Friedman (Jason Schwartzman) is hopeless, desperate even at the point in life in which we meet him when he should instead be feeling unstoppable. He thought he should be feeling unstoppable as well and because this moment in his life he's been working towards has finally happened and that it is something of a disappointment leaves his personality that is typically so set on his own conceit that he doesn't know how to handle the loss of hope and pride he once held in such high esteem. Of course, Philip would never admit to this kind of defeat or despondency as the film refers to it, but if Listen Up Philip is actually about anything it is the defeat of the human spirit and how each individuals perspective on life combined with their egotism shapes how they come out on the other side. read the whole review at www.reviewsfromabed.net

Dark comedies centered on self-obsessed and vicious geniuses are quickly becoming an insufferable cliche, but Alex Ross Perry avoids that by taking the time to seriously examine characters that generally are superfluous outliers in these kinds of films (specifically the jilted girlfriend and the enabling older mentor). This gives the character study scope, but never sacrifices intimacy.

It has rarely been so enjoyable to watch the life of a jaded cynic fall apart as he insults and loses all the people closest to him. Philip, played with uncanny brilliance by Jason Schwartzman, is a rudely uncompromising writer living in the shadow of the popularity of his first novel. However, as the publication of his second novel doesn't go as smoothly as expected, Philip becomes as insultingly unrelenting as ever, making it impossible to empathize with him yet making it impossible to look away. Elizabeth Moss shines in her role as his tormented girlfriend, Ashley, having to deal with his incessant rants and self-loathing temperament. Philip attempts to realign his personal perspectives by leaving Ashley and befriending one of his literary idols, Ike Zimmerman, who is almost equally as emotionally dissociated and self-absorbed as Philip. Zimmerman invites Philip to live with him in his country home as Philip teaches creative writing at a local liberal arts college, and the duo seemingly live for any bit of misery and deprecation they can gripe about. The nihilistic undertones of the tale are palpable, and yet Listen Up Philip remains to be a highly entertaining and comical experience, proving that even the most insufferable characters can be the most pleasurable to watch.