Little Dieter Needs to Fly: Escape from Laos
(1998)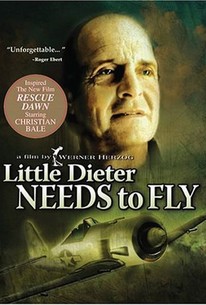 Little Dieter Needs to Fly: Escape from Laos Photos
Movie Info
While growing up in desolated post-WW II Germany, all Dieter Dengler, the son of a Nazi slain during the war, dreamed about was becoming a pilot. At age 18, he left his country with only a few cents to his name and emigrated to the U.S. Landing in San Francisco, he worked odd jobs until he was accepted into the Navy and began pilot training. He was sent to Vietnam around 1966 and on his first mission was shot down and taken prisoner. There, the Vietcong tortured and starved him until Dengler engineered a hair-raising escape and eventually returned to the U.S. where his heroic life story has been forgotten until now. Sometimes blurring the lines between fact and fiction with his trademark recurrent themes, this documentary from Werner Herzog remembers the times of the heroic Dengler. The film is divided into four chapters, each representing a period from Dengler's life; the story is recounted via interviews with the Navy pilot, archival footage and new footage seamlessly spliced together.
News & Interviews for Little Dieter Needs to Fly: Escape from Laos
Critic Reviews for Little Dieter Needs to Fly: Escape from Laos
Audience Reviews for Little Dieter Needs to Fly: Escape from Laos
An absolute must-see for those who liked Rescue Dawn as it tells the same story - but right from the mouth of Dengler. It's shocking to hear what he went through. It's also a Herzog documentary and therefore obviously brilliant.
Marcus Woolcott
Super Reviewer
Very insightful doc as Dieter Dengler retells his story of being a POW during Vietnam.
A documentary about a pilot's survival against the odds after being shot down in the Vietnam War. Dieter Dengler's origins in war-torn Germany and his subsequent embrace of the American Dream make his story all the more fascinating. I was worried it was going to turn a bit self-indulgent when Dengler started re-enacting his ordeal in the jungle, but it managed not to. Though he looks remarkably fit and well here, Dengler died of motor neurone disease only four years after this film.
Little Dieter Needs to Fly: Escape from Laos Quotes
There are no approved quotes yet for this movie.