Logan Lucky
(2017)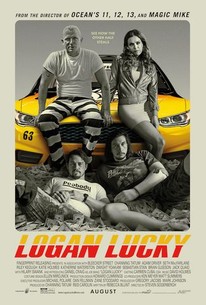 TOMATOMETER
AUDIENCE SCORE
Critic Consensus: High-octane fun that's smartly assembled without putting on airs, Logan Lucky marks a welcome end to Steven Soderbergh's retirement -- and proves he hasn't lost his ability to entertain.
Movie Info
Trying to reverse a family curse, brothers Jimmy (Channing Tatum) and Clyde Logan (Adam Driver) set out to execute an elaborate robbery during the legendary Coca-Cola 600 race at the Charlotte Motor Speedway.
News & Interviews for Logan Lucky
Critic Reviews for Logan Lucky
Audience Reviews for Logan Lucky
Steven Soderbergh's return to the director's chair brings us Logan Lucky, a breezy retreading of Soderbergh's Ocean's Eleven, complete with southern blue-collar criminals, instead of Vegas con artists. Two brothers, constantly screwed over by life, decide to put a crack team together and rob Charlotte Motor Speedway, right under the feet of thousands of fans, security, and racers. Logan succeeds at its primary function - to be entertaining with slick editing, good performances, and plenty of wit to boot. But it lacks the pulse, energy, and the well-oiled machine that drove Ocean's Eleven and Thirteen over the finish line. Channing Tatum and Adam Driver prove they can play off-beat leading men, and deliver a one-liner. Riley Keough kicks a lot of ass and burns a lot of rubber, as does Daniel Craig as a backwoods chemist with a wild streak and who specializes in explosives. Logan Lucky is notable for the earnest respect it has for West Virginia, and it does so without pandering. Which makes the result a bit tragic - this movie found no audience. Let's be honest. The target audience passed on it, probably thinking it was too off-beat or boring, and cinephiles avoided it, because eww rednecks. It's a bit more glaring considering how this movie teases sequels that aren't happening. Never count your chickens before they hatch.
Joshua Sheetz
Super Reviewer
½
Just pure fun and humor
Kameron Woodall
Super Reviewer
If you've seen a Steven Soderbergh movie before, particularly the Ocean's trilogy, you'll notice many similarities between them and Logan Lucky. They're both about a group of colorful characters trying to pull off a multi-million dollar heist, all while avoiding capture. It's the cast and setting that make it stand on it's own, versus being Ocean's 14. Channing Tatum, as he did in the Jump Street movies, once again proves that he can make an audience laugh while standing shoulder to shoulder with high-caliber dramatic actors like Adam Driver, Hilary Swank, and Daniel Craig. Did I mention Daniel Craig? The latest Bond turns in what is by far his funniest performance, toting a heavy southern accent with a strangely random knack for science. Tatum, Driver, and Craig set out to rob the vault of the biggest Nascar event of the year, located in Concord, North Carolina. Like Soderbergh's Ocean movies, the majority of the film is an incredibly elaborate, step-by-step plan to execute a heist, coupled with sharp editing and a smart script. A particularly memorable scene involves the prisoners of Daniel Craig's jail starting a riot so that he can escape, perform the heist, and make it back before dinner. Their list of demands are simple; add a Game of Thrones shelf to their library. As a huge fan of Game of Thrones, watching them engage in back-and-forth banter with the warden (an all too proud Dwight Yoakam) about when the next books are going to be released was a major highlight, and had me rolling. Yet even with the wise-cracking characters and top-notch cinematography, a feeling of deja vu was still lurking in the back of my mind. Thankfully, it wasn't enough to distract me from concluding that Logan Lucky was mostly a genuinely funny and smart late-summer flick.
Kevin Mozulay
Super Reviewer
Logan Lucky Quotes
There are no approved quotes yet for this movie.
Discussion Forum
Discuss Logan Lucky on our Movie forum!