Lola
(1961)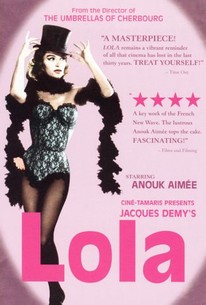 Movie Info
Jacques Demy's auspicious debut -- "a musical without music" set in the port city of Nantes -- stars Anouk Aimée as the title character, a cabaret singer awaiting the return of Michel (Jacques Hardin), her long-absent lover and the father of her child. Michel went to America seven years ago and promised to return when he became rich. In Michel's absence, Lola is being courted by her childhood friend Roland (Marc Michel) and American sailor Frankie (Allan Scott). At some point, it seems that Lola will settle down with one of them, but her heart still belongs to Michel. The film is dedicated to Max Ophüls and the film title obviously alludes to Ophüls' Lola Montes as well as to the heroine of Josef Von Sternberg's The Blue Angel. Marc Michel makes a reference to his unrequited love towards Lola when he reappears in Demy's The Umbrellas of Cherbourg (1964). ~ Yuri German, Rovi
Audience Reviews for Lola
½
Not the femme-fatale tale which I expected, "Lola" is a slice of life about a well-meaning cabaret dancer (Anouk Aimee) torn between three men: a visiting American sailor, an old childhood friend and a long-departed husband (whose young son she is raising alone). Meanwhile, a pretty 14-year-old girl studies English and rebels against her mother by befriending the sailor, while the above childhood friend contemplates taking a shady trafficking job. The various characters' lives overlap in clever ways, and the storytelling maintains that light, open-ended tone so commonly found in '60s French cinema. Meanwhile, Michel Legrand's frisky score smooths over the rough spots. I did find myself wishing the film was in color -- I rarely have this complaint, but the glamorous women and romantic sights seemed somewhat hobbled by the black-and-white cinematography.
Eric Broome
Super Reviewer
Ken Stachnik
Super Reviewer
½
beautifully shot. the plot had so much potential for intertwining of stories (such as parralels for the ceciles, the blond sailors, etc), but these didn't connect, at least for me. i adore anouk aimee, but i found this character cliched; i much prefer her in 'la dolce vita.'
Stefanie C
Super Reviewer
Lola Quotes
There are no approved quotes yet for this movie.