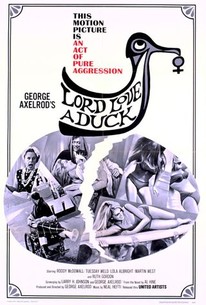 Lord Love a Duck
1966, Comedy, 1h 35m
9 Reviews
1,000+ Ratings
Where to watch
Subscription
Subscription
Rate And Review
Movie Info
An unusually gifted high school senior, Alan Musgrave (Roddy McDowall), decides to direct his mental powers toward helping an innocent new student, Barbara Ann Greene (Tuesday Weld), achieve her goal of popularity. With Alan's guidance, Barbara climbs the social ladder, finds a husband and eventually gets a shot at a glamorous movie career. But when Barbara's husband begins to get in the way of her ambitions, Alan will stop at nothing to make sure she reaches the top.
Audience Reviews for Lord Love a Duck
Hokey smokes! Where did this tantalizing hidden gem of a dark comedy come from!?! I never even heard of it, but zowie, it's a keeper right up there with The Graduate and You're A Big Boy Now insofar as subversive, in-your-face, us-against-the-establishment-with-a-smirk, 60's style movies go. Think ... if Altman's M*A*S*H and Hitchcock's Psycho had a kid. Its sorta like that. Loved it.

This is a fun movie, I loved Roddy McDowall and Ruth Gordon together in the movie they were hilarious. This comedy is really zany and very funny. I really liked it.

Dark and somewhat evil satire of the shallow "want" society of Southern California where appearance and desire are the be all end all of existence. Everything is attacked here: religion, school, psychiatry, age, the movie industry, love and "Wild Bikini" beach movement of the 60's. Perhaps the funniest thing is that no matter how bad and shallow the writers and director thought things were at the time in this society 44 years later it is sooo much worse. Hmm, perhaps nobody watched this movie and got it's message.

If you're one of those people who wanted to hug Ferris Bueller rather than throw him under the wheels of Mr. Frye's prize Ferrari, then you'll hold Roddy McDowell's smarmy, obnoxious character in "Lord Love a Duck" close to your heart. Hey, at least Matthew Broderick wasn't a 37-year-old trying to pass himself off as a high-school senior. The above Flixster review is right to emphasize the cashmere-sweater scene, though...that is seriously twisted. But shame on the reviewer for daring to compare this film with the incomparable satire of "The Loved One."
See Details