Lorna
(1964)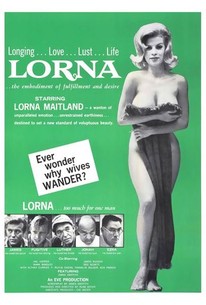 AUDIENCE SCORE
Critic Consensus: No consensus yet.
Movie Info
"I realized that nudies had had it," recalled filmmaker Russ Meyer concerning the year 1964. "Now there was required, in addition to the exposure of flesh, some sort of simple story. So from Lorna on, I have concentrated on action melodramas, violence and sex..." Yes, that's Lorna all right. This backwoods melodrama concentrates on a much-sought-after hillbilly gal, whose fatal beauty inspires all manner of bloody mayhem. It ain't Citizen Kane, but Lorna had its fingers firmly on the pulse of its target audience, enabling Russ Meyer to rake in another fortune on a bare-minimum investment.
Audience Reviews for Lorna
Jim (James Rucker) is married to Lorna (Lorna Maitland), one of director Russ Meyer's typical restless, bra-busting vixens. While Lorna scowls at home, Jim literally works in the salt mines with two leering cretins who spend most of their energy fantasizing about Lorna and resenting Jim for snaring her first. But when a macho convict (Mark Bradley) escapes from prison and comes across Lorna bathing nude in the bayou, sparks inevitably fly between the two. What will happen if Jim returns from work and catches them in the act? "Lorna" is an early Meyer film (sorry, the breasts are in black-and-white and mostly shown from the side) and, arguably, it's his first to show some professional polish. His later humor is missing, and the only real laugh comes from a totally unnecessary shot of a cloaked "Death" figure. "The Seventh Seal," this ain't. The film does contain another example of Meyer's quirkiest trademark: the grandiose onscreen narrator. In this case, it's a stern preacher (James Griffith) who draws a parallel between this story and the Biblical tale of Lot's wife.
Eric Broome
Super Reviewer
Completely ridiculous and hokey, but with any Russ Meyer flick, you're not going to get much else than big boobs and a flimsy plot. And Lorna is no exception. The only things Lorna has going for it are Maitland's freakishly buoyant breasts, some decent cinematography, goofy characters (namely Jonah) and an amusing final ten minutes. It's nowhere nearly as good as Faster Pussycat or Mudhoney but if you're in a 60s b-movie kind of mood you probably won't be too disappointed.
Michael Gildea
Super Reviewer
Lorna Quotes
There are no approved quotes yet for this movie.