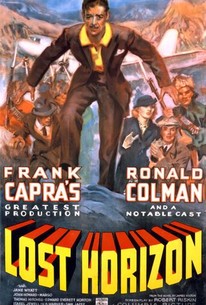 Lost Horizon
1937, Adventure, 2h 12m
14 Reviews
5,000+ Ratings
Where to watch
Rent/buy
Rent/buy
Rent/buy
Rate And Review
Movie Info
Based on a novel by James Hilton, this fantastical drama follows a group of plane-crash survivors who have landed in the mythical Shangri-La, a valley hidden deep within the mountains of the Himalayas. Rescued by followers of the High Llama (Sam Jaffe), the outsiders grow to love the remote paradise, but British writer and diplomat Robert Conway (Ronald Colman), suspecting that the crash was no accident, begins to investigate, leading to a surprising revelation.
Audience Reviews for Lost Horizon
This might be the worst of Capra's most well known films. Even his sappiest stuff is never this dull or naive.

A magical valley hidden away from the rest of the world offers a dreamlike and carefree existence, an answer to a prayer seemingly, but do we really want that answer? It's a rare film by Frank Capra that engages in the subtlety required to not answer any questions that it asks, and so we must answer for ourselves: do we really want our dreams? What about the dreams that threaten to envelope us, the dangerous dreams? This filmic consideration is worth the thought, with a couple of action set pieces to flavor the whole. And Ronald Colman's mesmerizing vocal intonations!

On a plane ride in China, Ronald Colman and four others are hijacked and flown to a remote place in the Himalayas. Their plane crashes, killing only the pilot, and they are rescued by mountain people who take them to an idyllic place called Shangri-La. There doesn't seem to be a way out, and this grates on most of them, but it suits Colman fine, as he sees kindred spirits in the leaders of Shangri-La, and wisdom in their philosophy. We suspect conflict will come in one form or another, and it will be a tale of 'Paradise Lost', but it's not obvious how it will play out. Ronald Colman gives a strong performance, and his demeanor seems well-suited to the film. His fellow castaways (Edward Everett Horton, Thomas Mitchell, John Howard, and Isabel Jewell) all have nuances to their characters, and while they're not developed as fully as they could have been, they follow interesting arcs through the movie. There are love interests - Colman falls for a native (Jane Wyatt), and follows her on horseback to catch a glimpse of her swimming in a mountain lake, and Howard falls for another (Margo). Wyatt's character is happy in paradise, but Margo's is not, and reinforces Howard's own desires to leave. There are some sweet, romantic scenes between Wyatt and Colman, and the two make quite an attractive pair. It seems to me this film was deeply personal to director Frank Capra, and outlines his philosophy and deepest feelings about life, which you may find mirroring quite a bit of Leo Tolstoy in his later years. In a few different ways, he presents to us many ideals. Pacifism: simply disarming oneself to defend one's country. Moderation: controlling one's desires, and yet not attempting to eliminate them; living life in moderation, in all aspects, including moderating one's virtues. Humanity: being tolerant of others, and most importantly, following two simple words - Be Kind. Brotherhood: that if man's basic needs were met, crime would mostly be non-existent, and people would live in peace. It's an idealistic, optimistic message that flies in the face of the world at the time it was made, and perhaps flies in the face of humanity in any time period. It's one that is easy to be cynical about or to criticize, but there is a great deal of depth here, and dammit, maybe that's what the world needs, more idealists. The film is certainly not perfect, and among other things, I wish Chang (H.B. Warner) and the High Lama (Sam Jaffe) had been played by Asian-Americans. I wish it had not conflated Buddhism and Christianity in some of its messaging, though perhaps in a higher sense, at least ideally, these lead to the same place ('Be Kind'). But look at the beauty of the philosophy, which was a beacon of light in 1937, with a world teetering towards fascism and war, and which is still a beacon of light today. Look at the beauty of the imagery Capra puts up on the screen, in those mountain scenes, in the sets, and in the detail (like seeing characters' breaths when they're in cold places). Look at the sage performance Warner turns in, truly epitomizing enlightenment, and those 'moments of truth' for Ronald Colman, real angst in his eyes. This is fantastic stuff, and a film to seek out. Quotes: On pacifism: "I'm not going to have an army. I am going to disband mine. I'm going to sink my battleships. I'm going to destroy every piece of warcraft. When the enemy approaches, we'll say: 'Come in, gentlemen. What can we do for you?' So then the poor enemy soldiers will stop and think. And what will they think? They'll say, 'Something's wrong here, we've been duped! This is not according to form. These people seem quite friendly. Why should we shoot them?' Then they'll lay down their arms. You see how simple the whole thing is? Centuries of tradition kicked right in the pants." On moderation: "To put it simply, I should say that our general belief was in moderation. We preach the virtue of avoiding excesses of every kind. Even including excess of virtue itself." "That's intelligent." "In the valley, it makes for better happiness among the natives. We rule with moderate strictness...and in return, we are satisfied with moderate obedience. As a result, our people are moderately honest, moderately chaste...and somewhat more than moderately happy." On crime: "We have no crime here. What makes a criminal? Lack, usually. Avariciousness, envy. The desire to possess something owned by another. There can be no crime when there is a sufficiency of everything." On humanity: "I saw all the nations strengthening, not in wisdom, but in the vulgar passions and the will to destroy. I saw their machine power multiplying, until a single-weaponed man might match a whole army. I foresaw a time when man, exulting in the technique of murder would rage so hotly over the world, that every book, every treasure would be doomed to destruction. This vision was so vivid and so moving that I determined to gather together all things of beauty and culture that I could and preserve them here against the doom toward which the world is rushing. Look at the world today. Is there anything more pitiful? What madness there is, what blindness, what unintelligent leadership. A scurrying mass of bewildered humanity crashing headlong against each other, compelled by an orgy of greed and brutality. The time must come, my friend when this orgy will spend itself. When brutality and the lust for power must perish by its own sword." On love, this little gem tucked in amongst the philosophy: "When we were on that plane, I was fascinated by the way its shadow followed it. That silly shadow racing along over mountains and valleys, covering 10 times the distance of the plane. Yet always there to greet us with outstretched arms when we landed. I've been thinking that somehow you're that plane and I'm that silly shadow. That all my life, I've been rushing up and down hills, leaping rivers, crashing over obstacles, never dreaming that one day, that beautiful thing in flight could land on this earth and into my arms."

Pieces of this are missing but it is nonetheless compelling. Ronald Colman's trip to Shangra La is helped with the black and white and mystery about a time from another place and era. Certainly not up to modern film standards but interesting.
See Details