Love and a .45
(1994)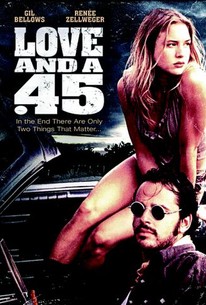 Movie Info
This action film has the feel of an old 1970's drive-in movie as it deals with the exploits of lovers on the run heading for the Mexican border. Watty-Watts believes himself to be an artist when it comes to executing robberies and demonstrates his art in the first scene. When Watty teams up with the crazed Billy Mack Black, a drugged out biker, his artistry fails and Billy fatally shoots the checkout girl which in turn, forces Watty to shoot him and run. Unfortunately, Billy didn't die and now is out for revenge. Watty, unknowing that his partner lives, gets his girlfriend Starlene and sets off across Texas for the Mexican border with Billy and the cops hot on their trail. The story makes many interesting detours before it comes to its inevitable conclusion.
Critic Reviews for Love and a .45
All Critics (6) | Fresh (5) | Rotten (1) | DVD (1)

Captures that Texas Rockabilly Highway Outlaw spirit . . . a bit silly and lags in places, but [it] puts the fun back into antisocial and homicidal behavior
Audience Reviews for Love and a .45
½
An against all odds film about living dagereously with no bullets. Better named, Love Takes a Holiday, this film is about as unprofessional a made film as I have seen. SEE the trailer here: www.youtube.com/watch?v=B3AqG25J_Vo [img]https://encrypted-tbn1.gstatic.com/images?q=tbn:ANd9GcSSWq_ajlqIni0U1xEQkmU5e48IYjJtosi53jcPn12VsblubvVvEg[/img] Lots of violence, profanity in this less than original plot of a two cent punk, Gil Bellows, robbing convenience stores as an admitted "expert". He never carries bullets cause "someone might get hurt". When his moll, or gagster girlfriend, hook up its all about her romantisizing their lives. She likens it to the movies, like Bonnie and Clyde, she says. He says: but they all get killed. [img]https://encrypted-tbn0.gstatic.com/images?q=tbn:ANd9GcRlgZXOYK3w2QoMTIbV0Z0JVURc08m-pVpcNQS6dZU_ax0EZi-xpA[/img] Truely intended for young, immuature film goers that are impressed by guns, bravado and fast cars. Cast with Fonda as a aging hipster wanting to persuade the pair to get right with themselves, the young married duo continue to Mexico. After killing two hothead police, they continue going down life's highway to damnation. Truely unwatchable for me. Others have thought better of it. [img]https://encrypted-tbn2.gstatic.com/images?q=tbn:ANd9GcT5ZyC70xYOyjeEAdHMkOgpC6_VoR7eiPQOLq44efcXTFzNAA7h[/img] REVIEWS: 60% It's my business to know convenience stores. Watty makes a living robbing convenience stores 90% Son, there's only two things you need in this life to survive, love and a 45."-Watty Watts (Gil Bellows) 100% This is an awesome movie! [img]https://encrypted-tbn2.gstatic.com/images?q=tbn:ANd9GcQX3g0suzwHUr7W35YGQGPiltREHosMNR3Hxc3TJSwEmooAlhjefQ[/img] NOTES: 1 Love and a .45 is a 1994 Bonnie and Clyde-esque road movie but not near the impact except to those born today. Gil Bellows - Watty Watts Renée Zellweger - Starlene Cheatham Rory Cochrane - Billy Mack Black Jeffrey Combs - Dinosaur Bob Jace Alexander - Creepy Cody Ann Wedgeworth - Thaylene Cheatham Peter Fonda - Vergil Cheatham [img]https://encrypted-tbn2.gstatic.com/images?q=tbn:ANd9GcTme5RCRAbe_es3cHb2vX3iV6oQouBcsBHtrwwAT68OtvSEaNLETg[/img] Directed by C.M. Talkington Produced by Darin Scott Written by C.M. Talkington Music by Tom Verlaine The Reverend Horton Heat Cinematography Tom Richmond Edited by Bob Ducsay Distributed by Lions Gate Entertainment [img]https://encrypted-tbn2.gstatic.com/images?q=tbn:ANd9GcSeqt76KGL70MImzHyJluo5uCTgg-hE1ejH0NFRHAqCbrezs7eH-w[/img] Release date(s) November 23, 1994 Running time 102 min. Country United States Language English Box office $35,200 [img]http://upload.wikimedia.org/wikipedia/en/thumb/b/b2/Loveanda45.jpg/220px-Loveanda45.jpg[/img]
monsieur rick
When a convenience store robbery goes wrong, a professional thief and his true love head to Mexico pursued by the cops, a pair of drug addled hitmen and his psychotic ex-partner. Original, Love And A .45 is not. But although blatantly pillaging True Romance, Wild At Heart and Reservoir Dogs, it's written and directed with enough style and understanding of the genre that it has enough going for it to make it a pretty decent blood spattered road movie. Gil Bellows and a surprisingly hot Renee Zellweger make a likeable couple and they are ably supported by Rory Cochrane's manic turn as the scumbag who's the source of all their woes and Jeffrey (Reanimator) Combs is clearly enjoying himself as the obligatory wacky hitman. The one handicap is its insistence on having wacky characters shoot up drugs and wave guns around instead of any real plot development which means it has run out of steam by the rather anti-climactic ending. The low budget means it's not the measure of a Tarantino or Rodriguez, but it's still at least as good as the likes of Kalifornia and Red Rock West and a lot better than the wildly over-rated Natural Born Killers.
the hot empty wastes of the american west inexorably bring trouble to mind and so herein a lonesome tale of love and death for one trailerpark couple that simply are minding their own business...with a pair of .45's, welcome to america. gil bellows (what ever happened to him?) and renee zellweger dance with the devil in a cousin coda to "natural born killers".
Kevin M. Williams
Super Reviewer
Love and a .45 Quotes
There are no approved quotes yet for this movie.
Discussion Forum
Discuss Love and a .45 on our Movie forum!