Love Liza
(2002)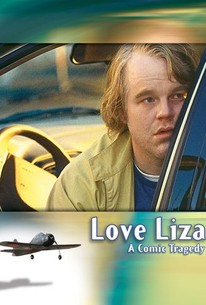 Movie Info
Wilson Joel is a man in trouble. There's a searing pain in his gut that he can't tolerate and a dazed quietness to his struggle as he tries to maintain his equilibrium. Wilson is attempting to move on from the sudden and inexplicable suicide of his wife. His mother-in-law is there for him, but her sympathies turn quickly. He has an employer that seems to want to help him, and a workmate who wants him for herself. But nothing and no one can give Wilson solace; so, he seeks oblivion. It is not the usual alcohol or drugs. Wilson inhales fumes from gasoline cans and model airplane fuel and finds temporary salvation in the company of remote-control model enthusiasts. However, nothing that provides him relief really lasts.
People Who Like this movie also like
Critic Reviews for Love Liza
Audience Reviews for Love Liza
½
As illustrious as Philip Seymour Hoffman's career has become, Love Liza perhaps offers a hidden gem in his laudable career. In it he plays a distraught widower, whose wife killed herself for seemingly unknown reasons. This propels him on a strange journey involving gasoline and remote controlled airplanes. It's an undeniably indie film, unconventional in many respects, and effective on an emotional level. Its narrative arc, however, leaves something to be desired. Philip Seymour Hoffman's performance is certainly the most notable aspect of the film, making it worth watching for its shear depth and power alone. He embodies the manic personality perfectly, sometimes deliriously upbeat, other times helplessly distraught and confused. This is what the film gets right, a loss such as what Hoffman's character experienced is not easily gotten over, and does not offer happy endings or easy answers. Life can be confusing, inexplicable, and harsh, Love Liza captures this with a mature sense surpassing many similarly themed films. The problem with Love Liza, however, is that its script, smart in its characterizations, doesn't pay off in a narrative sense. The relationship between Hoffman and his wife is never fully explored, with no sense of resolution to be had, which can work, but only if we can more aptly identify with the dynamics at work. The film offers interesting characters, but raises more questions than it answers, leaving the film in a bit of a meandering spot. An overall effective drama, notable for its strong central performance. 3.5/5 Stars
Jeffrey Meyers
Super Reviewer
½
Despite him regularly being the support with smaller roles, Philip Seymour Hoffman was an actor that always grabbed my attention with his consistently excellent performances, while the bigger 'stars' around him struggled to keep up. This was the film that gave Hoffman a rare lead role, helping him cement his reputation as one the finest actors of his generation. Following his wife's suicide, computer designer Wilson Joel (Philip Seymour Hoffman) is left with a goodbye note he cannot bring himself to read. His grief takes a peculiar turn when he becomes addicted to sniffing gasoline and becomes involved in flying toy planes just to feed his petrol habit. Sometimes a film comes along that's not entirely classic stuff but gives an exceptional actor a showcase role and a chance to show what they can do. This is that very film for Hoffman. His performance is marvellous, shifting effortlessly from one emotion to another as he conveys the depths of his despair and emotional suffering. This is an actor displaying his full acting range and when his performance was lavished with superlatives, it deserved every one of them. The film itself is an offbeat little drama, that doesn't follow the conventions of it type. It has touches of brilliance and director Todd Louiso (in his debut) shows that he can confidently craft a good character study. The supporting roles are also well played by the ever-reliable Kathy Bates as Wilson's mother-in-law and especially Jack Kehler as Wilson's childlike friend Denny - who all but reprises his small role of The Dude's landlord in the "The Big Lebowski". The problem with the film though, is the pace. It's only 90mins long but feels longer somehow, as sharing a character's mental and emotional anguish isn't good for the time flying. If sitting through a film where the main character is in a constant state of suffering and losing his grip on reality, doesn't appeal to you then avoid this, but by avoiding you would only miss out on an acting masterclass.
Mark Walker
Super Reviewer
½
Philip Seymour Hoffman, Kathy Bates, Jack Kehler DIRECTED BY: Todd Louiso Following the unexplained suicide of his wife Liza, website designer Wilson Joel (Philip Seymour Hoffman) turns to gasoline fumes and remote control gaming while avoiding an inevitable conflict with his mother-in-law (Kathy Bates). Oh what a sad, depressing movie that was brilliantly done by Hoffman. Just so raw and honest. The more movies I see with Hoffman the more I love him. He is amazing. Kathy Bates is amazing she needs no praising. Just the two of them in this film were great. You feel so bad for his character and the downward spiral he is going down. Although it's a bit slow, the performances you get is well worth it.
♥˩ƳИИ ƜѲѲƉƧ♥
Super Reviewer
Love Liza Quotes
There are no approved quotes yet for this movie.