Loving
(2016)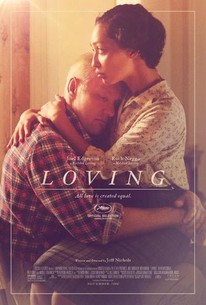 TOMATOMETER
AUDIENCE SCORE
Critic Consensus: Loving takes an understated approach to telling a painful -- and still relevant -- real-life tale, with sensitive performances breathing additional life into a superlative historical drama.
Movie Info
From acclaimed writer/director Jeff Nichols, Loving celebrates the real-life courage and commitment of an interracial couple, Richard and Mildred Loving (portrayed by Joel Edgerton and Ruth Negga), who married and then spent the next nine years fighting for the right to live as a family in their hometown. Their civil rights case, Loving v. Virginia, went all the way to the Supreme Court, which in 1967 reaffirmed the very foundation of the right to marry - and their love story has become an inspiration to couples ever since.
News & Interviews for Loving
Critic Reviews for Loving
Audience Reviews for Loving
Nicely acted and directed, "Loving" tells the story of one of the biggest civil rights cases in U.S. history -- with hardly any reference to the courtroom story itself. "Loving" is about the people involved, the injustice they faced, and their often quiet determination to stand up for the ones they love. What it may lack in drama it makes up for in heart.
Christian C
Super Reviewer
With a true story as sensitive as this, it was imperative that the filmmakers took care in choosing the right aspects to showcase, as well as do an impeccable job in casting. After viewing Loving, I can say from the bottom of my heart that this was a story that needed to be told on the big screen. Going into this film, you will probably be able to guess the outcome and where the film will choose to conclude its story, but that is not an issue here. Normally, a true story is released and leaves me wishing I had seen more while the credits were rolling, but Loving spends just enough time with its core storyline that it becomes a simple, yet moving tale. Some people are calling this one of the best films of the year. While I don't believe it will rank among my favourites, I will surely remember it. Our world will always have its issues. From war, to robbers, to cheaters, life is filled with evil. One thing that has almost become non-existent is the right against being able to marry someone of another race. Back into 1960s, interracial marriage was frowned upon throughout many states, Virginia being one of them. Following Richard and Mildred Loving as they become happily married, forced out of their state to raise their family for the next 25 years, and try to find ways of lessening their sentence, Loving is a moving and memorable piece of filmmaking. Simple and to the point, it does not take an excessive amount of time to get to the point, but rather gives itself a slow-pace in order to let the emotions sink in. From Take Shelter to Midnight Special, director Jeff Nichols has been known for his beautiful direction and ways of putting his vision on screen. Most of his films have a very drab look to them, fitting very well with the stories at hand, and Loving is no exception to that notion. Shot in a much more simplified manor than some of his previous work, I believe that was necessary for this particular story. Throughout each and every scenes, everything that needs to be focussed on or in frame, is. Loving is a very well-shot and well-directed film all around. If this film does not receive a ton of buzz come Oscar season, I still recommend checking it out. It is a very well-made picture. Everything about Loving comes off as subtle. In the end, there really aren't any complaints I have with the film itself, other than being incredibly slow. Joel Edgerton and Ruth Negga are wonderfully cast here and their chemistry is some of the most believable I have seen all year. There is nothing magnificent about this screenplay, which is precisely why I loved the writing so much. There is very little dialogue unless it is completely necessary, and when there is an excessive amount of dialogue, it feels totally natural as it flows out of each characters mouth. For all of these reasons, I found this film very easy and relaxing to watch, ending in tears, due to the effectiveness from the cast. In the end, Loving is a wonderfully crafted film by director Jeff Nichols. That being said, it is a very, very slow moving film that some audiences may become bored by. For myself, the pacing fit the tone and story very well. There is not much to the story, unless you include the subtext in the final frame, explaining the rest of the events. That being said, it makes it a much more cohesive story with not too many chances of making a mistake. It shows a very little glimpse into the way that this family dealt with this horrible fate and as a film, is beautiful to gander at. I felt soothed and relaxed throughout this film, as the calming pace really makes for an enjoyable viewing experience. Again, this pacing will not be for everyone, but Loving is an undeniably well-made film. Highly recommended to those who are curious about this subject matter.
Richard (Joel Edgerton) and Mildred Loving (Ruth Negga) are a young couple deeply in love in the late 1950s. The only problem: he's white and she is black. The laws in their native Virginia forbid marriages to different races. The Lovings traveled to Washington D.C. to be married and then had to live as fugitives before ultimately getting caught and exiled under threat of jail time. Eventually an ambitious ACLU lawyer (Nick Kroll, broadening his range) challenges the legality of the miscegenation law, which will lead to the landmark 1967 Supreme Court ruling striking down laws barring interracial marriage. The ordinariness of the Lovings betrays the kind of movie moments we expect from great historical turning points, namely moral grandstanding and stentorian speechifying. We're so used to accentuated versions of history because, deep down, that's what our storytelling impulses crave because the real thing is often less streamlined and usually more boring. We want Daniel Day-Lewis as President Lincoln admonishing his fellows with the power of his oratory. We don't necessarily want to watch President Lincoln rewrite his speeches for grammatical mistakes. With all that being said, I appreciated the approach that writer/director Jeff Nichols took with Loving because the very point at the heart of the movie is just how powerfully ordinary Mildred and Richard Loving are. Their love is meant to ordinary, their relationship relatable. They're meant to be just like you or I. This thematically taps into the message of the movie about the fundamental human rights of American citizens to love who they love regardless of what others may think. There is nothing dangerous or subversive about their marriage. There is nothing radical. The rationale for why the state would care so much about a marriage can be flabbergasting, including one judge's written statement that God created separate races and placed them at separate points on the globe, thereby never intending for them to mix. This was considered acceptable legal justification for discrimination in the 1960s and it's absurd. The other argument against interracial marriage is that biracial children are a harm to larger society... somehow. It's easy to look back to the past and shake our heads with a fury of moral indignation and say "How could they do that?" but some of these exact same legal arguments have been used in the twenty-first century to justify denying gay citizens the same equality. In that sense, Loving shows us how far we've come but also how far we have to go to make sure that human beings are simply considered human. If that wasn't enough the movie also makes a powerfully compelling case about how the state's miscegenation laws were an offense to human decency. The Lovings are given the legal ultimatum to separate or be exiled from the state, their families, and the home they were making for their family. They have been banished for loving the "wrong" person. Mildred and Richard try living out of the state in a D.C. suburb but it's not the same; Mildred misses the quiet and relative safety of the country as well as the warmth of her immediate family. They decide to sneak back into Virginia and lay low, and you get a genuine sense of the day-to-day anxiety of having to constantly look over your shoulder and fly under the radar lest someone throw you in prison for loving another race. The degradation and dehumanizing effect of the miscegenation laws is on full display with how Mildred and Richard must act like criminals afraid of their country of laws. They may be used to the glares and hateful comments from intolerant onlookers but it's another thing when the power of the state is employed to enforce that same hate. The wear and tear of their love perplexes some of the Loving friends and family. Mildred's brother and sister each take turns blaming Richard for knowingly bringing this heap of trouble upon their beloved sister and for taking her from them. Her brother confesses he doesn't know why he doesn't just divorce her and stay together, satisfying the definition of the law. It's a pertinent question that asks what is the value of marriage? He could readily be with Mildred and save themselves the persecution, but why should they have to settle for something less with their love? Why should they have to be second-class citizens? This is very much a duet of a movie and Negga and Edgerton deliver admirable, understated work that cuts deeply. I was most impressed with Edgerton (The Gift) who has the more private and insular character. He's not seeking the spotlight and doesn't want to be a civil rights crusader. Richard Loving isn't exactly a man prone to those speeches we crave and he's certainly not a man to blurt out his feelings. Edgerton has to play within a tiny frame of emotional reference and he makes it work. When he does start to break down, his stoic defenses melting under the pressure and soul-killing compromises, the moments carry even greater emotional weight. Negga is the more emotive of the two but even much of her performance lies in her large, expressive eyes, taking in the collective injustices and triumphs. Using approximately the same Southern accent from her plucky performance on AMC's Preacher, she radiates warmth and goodness and a sense of indomitable perseverance. It's a performance that speaks in small gestures and small moments. Much of the film is Negga and Edgerton working together and each lifts the other up, providing the right space needed. There's a physical intimacy that says much as each member of the relationship seeks out the other's touch, grip, presence for comfort. It's a delicate and understated duet of performances that bring the Lovings to faithful life. Nichols (Mud, Take Shelter) is the kind of filmmaker that astonishes me with every new movie. He reinvents himself with every picture and he takes genres and redefines them, shaping them to his needs, while never losing sight of tone and characters and narrative payoffs. He's already delivered one of the best movies of the year with Midnight Special and now he impresses yet again, this time turning toward awards-friendly Important Stories of History. Nichols' sense of place is implacable. He's also superb at developing characters and giving them the time to properly breathe. He keeps the spirit of the story linked to his subjects, Richard and Mildred Loving, and makes sure we understand their plight and the larger issue at hand. This isn't a film that's going to hit you over the head with its message; in fact you could make a claim that perhaps the movie is too insular. As presented, the Lovings are relatable but we're only given a fraction of insight into who they are as people and what makes them tick. There's much subtext here to unpack. It does feel like we're fighting through the defenses of Mildred and Richard to better know them. This specific approach allows the movie to keep in spirit with the ordinariness of the Lovings and their unknowing place in the history of civil rights, but it also caps the potential emotional impact. We're invested in them as people but not as completely as characters. It's a minor criticism perhaps but it's really the only one I have for Nichols' movie. Given our recent turbulent political environment, Loving is an even more significant film. Jeff Nichols has crafted a poignant and affecting movie that passes over easy histrionics for a better representation of history and its characters. These people didn't want to change the world; they just wanted to live out their lives. Mildred and Richard Loving are regular people living regular lives and that's the ultimate message of the movie and their love. Having won their Supreme Court battle, the couple returns home to their original plot of land Richard bought in Virginia with the purpose of building his wife a house. Somber text appears in the sky to inform us that Richard would die in a car accident a mere six years later. It left me with a pall thinking about what a short span of time this man had to cherish the woman he loved without recriminations before it all came to a tragic end. It doesn't seem fair, and I hope that's a message other audiences take with them. When demagogues try and use religion in place of civil law to justify state-sponsored discrimination, saying the love others share is inferior and somehow a danger to their own lives, that's when people need to remember the Lovings. This life is too short to harangue others about whom they choose to give their love to. Here is a beautiful, gentle, and restrained film that reminds us that the power of love is in its superhuman perseverance. Nate's Grade: B+
Nate Zoebl
Super Reviewer
Loving Quotes
There are no approved quotes yet for this movie.
Discussion Forum
Discuss Loving on our Movie forum!