Machuca
(2004)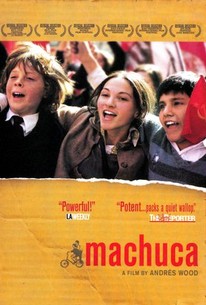 TOMATOMETER
AUDIENCE SCORE
Critic Consensus: Machuca is a touchingly bittersweet story of childhood friendship and a demonstration of how the political affects the personal.
Movie Info
Santiago, Chile, 1973: Pedro Machuca is a poor boy of tribal descent, brought into an upper class private school during Chile's brief socialist era. Gonzalo, the well-to-do boy seated a row ahead, befriends Pedro against the bullying will of his classmates. In so doing, he discovers a raw, thrilling but wildly complicated world outside his own previously sheltered homelife. Pedro's fierce, attractive young neighbor Silvana by turns mocks Gonzalo's pampered background, only to fondly lead both boys in a number of kissing games. All around them, Chile drifts towards civil war. The enormous rift between Gonzalo's comfortable household and Pedro's hard-scrabble life a few miles away in an illegal shantytown ultimately becomes impossible to bridge, once the bloody military coup of September 11, 1973 erupts. All three children suddenly face moral tests far beyond their young capacities.
Critic Reviews for Machuca
Audience Reviews for Machuca
This was a great movie! You got to learn of a true historical story and get a nice heart warming tale of two friends. The young people in this film displayed wonderful acting skills.
Jarrin Rozenblad
Super Reviewer
The film may be a little slow, but it's also heart-warming, beatifully shot and rewarding. The director doesn't go for cheap tears, which the story could've brought, but rather goes for effective storytelling and painful realism in it's characters.
Quinto Wallight
Super Reviewer
½
[font=Century Gothic]In "Machuca," it is 1973 in Santiago as democracy in Chile is undergoing its death throes. Gonzalo(Matias Quer) struggles to make sense of the chaotic situation as the only stores open are the black market. His mother(Aline Kuppenheim) has an affair with an older man to get the goods her family needs including the Lone Ranger books her son loves. At the private school Gonzalo attends, five indigent local students are admitted, one of whom, Pedro(Ariel Mateluna), he befriends, going so far as to help him and his older sister, Silvana(Manuela Martelli), sell flags at demonstrations.[/font] [font=Century Gothic][/font] [font=Century Gothic]"Machuca" is an ordinary and superficial coming-of-age movie with strong echoes of "Au Revoir Les Enfants" whose sole distinction is its setting which it does not take full advantage of. "Blame It on Fidel" did a much better job of showing a conflicted world through a child's eyes.[/font]
Machuca Quotes
There are no approved quotes yet for this movie.