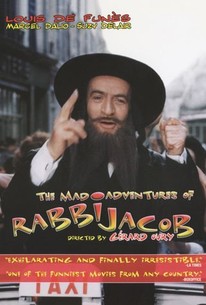 The Mad Adventures of Rabbi Jacob
1973, Comedy, 1h 36m
2 Reviews
2,500+ Ratings
Where to watch
Rent/buy
Rent/buy
Rent/buy
Rate And Review
The Mad Adventures of Rabbi Jacob Photos
Movie Info
A bigoted French businessman (Louis De Funès) is mistaken for a rabbi while fleeing with an Arab (Claude Giraud).
Audience Reviews for The Mad Adventures of Rabbi Jacob
Rabbi Jacob is a fine French comedy that features the impressive talents of famous French actor Louis de Funes in one of his greatest roles. If you enjoy French comedies and you understand the gags, you're sure to really appreciate this one for what it is. The comedy is sharp, well written and above all smart. This is effective tasteful comedy that manages to make you laugh due to the great acting of Funes, who is always great in his roles. Funes commands the screen with such intensity that you are sucked into his performance. He has as, kill that few comedic actors had. Rabbi Jacob is a fine picture that is a must see for fans of the genre, and it is a fine comedy that is a classic of French cinema. This is pure comedy gold, the way it is meant to be seen. Nowadays, comedies rely on crude, vulgar jokes to create its humor. However with this classic, you get effective, well written comedy that is over the top fun, yet very tasteful. Louis de Funes was a comedic genius, a true talent, not like the so called comedians of today. His skill as an actor in the comedic medium is to be admired, and enjoyed to the fullest. I view him as one of the comedy innovators and if you come across his work, due to yourself a favor, and check it out, you'll be glad you did. With that being said, Rabbi Jacob is a perfect starting point for Funes' work and in my opinion is one of the defining foreign comedies that like I stated, if you understand the language, you'll laugh hard from the start of the film onwards. Louis de Funes has made other great movies of course, but Rabbi Jacob is really the one that sticks out the most and for people that want to get into this talented actors filmography, this is the film to watch. A masterwork of Foreign comedy, Rabbi Jacob is flawless and worth seeking out.

Silly Silly Silly! Excessive humour and the most pathetic (yet hilarious) jokes make this my favorite comedy ever (and it's a french film, what a bonus!!!!!) :D Anyone familiar with Louis de Funès will adore this. If you don't know him, well you're missing out on something! The man can do hilarious facial spasms like no other. Okay so here is what Flixster wrote as the plot: Victor Pivert is a very tolerant man, provided you are white, Catholic, and French. To everyone else, he is a shameless racist, who believes foreigners should go back where they came from. On his way to his daughter's wedding, Victor uncovers a group of scheming Arab revolutionaries. After Victor is discovered, he hides himself by dressing up as a rabbi, leading to one madcap scene after another. Sounds ordinary I know but it had me laughing my life away. The only glitch is I'm afraid this is not the type of comedy everyone enjoys. Weird people like me adore this. But if you're not into randomness or silly humour, then drop it. Don't see this at all. Otherwise it is my duty to recruit you to the Funès Fan Club! P.S. If you can see this in French, it's even better!
See Details