Madman
(1981)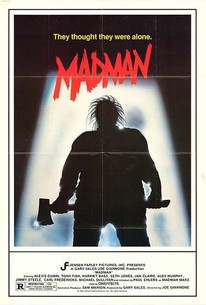 Movie Info
An axe-wielding maniac named 'Madman Marz' comes back to life and terrorizes a summer camp.
Critic Reviews for Madman
Audience Reviews for Madman
½
Madman is a much better Slasher film than most people would care to admit. Sure, the film is derivative of other backwoods slashers such as Friday the 13th and The Burning, but this film is still a very entertaining, and fun Slasher with great kill sequences. Madman is an underrated Slasher film and doesn't get the credit it deserves. The film is very entertaining, and is a superb Slasher. The film has everything you'd expect from an effective Slasher, stupid characters, setting in the woods and of course a maniac. The film has plenty to offer a diehard horror fan bent on wanting the ultimate Slasher experience. Madman offers that. This is a well done Slasher film with good kills, a pretty good story and plenty of good chills. Sure the film has some weak moments that could have been improved upon, but for the most part, the film succeeds at having a good mix of tension, cheesiness and awesome kills. Madman is a Slasher film that horror fans should check out, and the film is definitely a satisfying film worth watching. Sure the film copies from other Slasher films. But name one film that doesn't rip-off a film that was previously released in the genre. Every Slasher film has been a clone of the previous one. Madman is good film that will appeal to the diehard horror fans. This is a must see film that shouldn't be dismissed too quickly. There are plenty of good things going on here, and there are lots of great, horrifying elements that make up a good Slasher film, and that should be enough.
½
There is a grand total of 1 shot in this movie that I found effective, and that has a lot to do with smoke and back-light. I've seen EVERYTHING in this movie done before and done better. For complete-ists only.
Ken Stachnik
Super Reviewer
½
Not a bad Friday the 13th rip-off, with some decent kills, even if they do lack a bit of blood. Beware the cheesy, cringe-worthy hot-tub scene though LOL! If you enjoy killer-in-the-woods slashers than this is well worth seeing. It also has a crazy but catchy theme tune too that'll stay in your head for months!
Madman Quotes
There are no approved quotes yet for this movie.