Manda Bala (Send a Bullet)
(2007)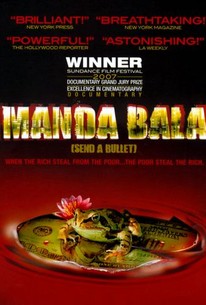 TOMATOMETER
AUDIENCE SCORE
Critic Consensus: The exciting and fast-paced documentary Manda Bala shows many sides of Brazil -- from the humorous and upbeat to the violent and disturbing.
Manda Bala (Send a Bullet) Photos
Movie Info
Brazil is a nation where political and economic corruption and violent crime are a way of life for many, and filmmaker Jason Kohn examines some of the more unusual ways they manifest themselves in this documentary. In Manda Bala (Send a Bullet), Kohn's subjects include a plastic surgeon whose practice is dominated by the victims of kidnappers who lost their ears to their captors; a political figure who uses his frog ranch as a cover for illegal business operations which have made him a multi-millionaire; and an auto customizer whose specialty is bullet-proofing luxury cars. Manda Bala (Send A Bullet) won the Grand Jury Prize for Documentary at the 2007 Sundance Film Festival. ~ Mark Deming, Rovi
News & Interviews for Manda Bala (Send a Bullet)
Critic Reviews for Manda Bala (Send a Bullet)
Audience Reviews for Manda Bala (Send a Bullet)
well done documentary with interwoven stories illuminating crime and corruption in sao paulo, where someone is kidnapped every day; the rich travel with bodyguards in armored cars and heliocopters, while a huge underclass struggles for survival and certain politicians are no better than gangsters. the roots of this corruption are traced back to colonial days. this film is banned in brazil. i'm surprised more people haven't seen it. currently streamable on netflix. 'when the rich steal from the poor, the poor steal the rich'
Stella Dallas
Super Reviewer
½
A wonderful, if ultimately somewhat aloof, look at the prolific number of kidnappings in Sao Paolo, Brazil, and the social conditions that allow for it. Plays almost like a black comedy. Worth watching, especially if you plan on traveling to that region. Also, you must like frogs, but not love them. Otherwise, this is not the film for you.
[font=Century Gothic]How are frog farms and ear replacement surgery connected in Brazil? I am glad you asked...[/font] [font=Century Gothic][/font] [font=Century Gothic]The enthralling documentary "Manda Bala" starts connecting the dots with Jadar Barbalho, a powerful and corrupt politician, who embezzled millions from SUDAM, a government program designed to help the most poverty stricken areas of Brazil. In the process he used frog farms for money laundering. The poor looking for any kind of work move to Sao Paulo where the wealth is concentrated. So, the very rich and the very poor are almost living side by side with each other. And some of the poor get desperate enough to kidnap the rich for ransom, occasionally cutting off their ears to further convince the relatives to pay up. Next, there are industries popping up like bulletproof cars, private helicopter services and ear reconstruction surgery.[/font] [font=Century Gothic][/font] [font=Century Gothic]The documentary contains footage of the videos made by kidnappers and of the ear reconstruction surgery.(Just thought I'd mention this, in case you are squeamish.) There are also interviews with people including Barbalho himself, judges, prosecutors, former kidnapping victims, policemen and even a kidnapper who elicits more sympathy than the owner of a Porsche.(At least, he does not drive a SUV.) All of which is scored to some very catchy music.[/font] [font=Century Gothic][/font] [font=Century Gothic]The underlying theme of the movie is that democracy is only as effective as its representatives. In Brazil, where corruption is rampant and a sitting Congressman cannot be tried by a public court, the results are disastrous. Remember that democracy is only a means to an end. [/font]
Manda Bala (Send a Bullet) Quotes
There are no approved quotes yet for this movie.