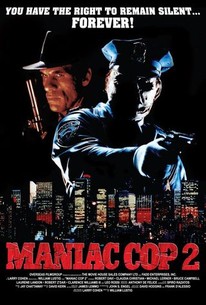 Maniac Cop 2
1991, Horror, 1h 30m
13 Reviews
2,500+ Ratings
Rate And Review
Movie Info
Renegade police officer Matthew Cordell (Robert Z'Dar) once roamed the streets of New York City unleashing his murderous brand of vigilante justice upon its denizens before being struck down by good cop Jack Forrest (Bruce Campbell). Now, Forrest is eager to move on from those heinous events, but he is stopped short when a familiar killing spree begins. Though thought dead and gone, Cordell is back from the grave and ready to wreak his merciless havoc once more.
Audience Reviews for Maniac Cop 2
Like most propulsive action pictures, the sordidly jaunty 'Maniac Cop 2' starts with an in media action extravaganza that recaps the first film and it barrels forward with a brute-force velocity that totally supersedes its ignoble predecessor. From the onset, the cinematography is more burnished with the camera gliding through a squad car graveyard until it lands on Matt Cordell's (Robert Z'Dar) phantom mode of transportation. A morbid monologue from a blind newsstand proprietor is a shrewdly written deduction for psychologist Susan Riley's (Claudia Christian) investigation. Bar none, the stuntwork is not feigned and action junkies can rejoice at their balletic resilience (ex. In an unbroken shot, a felon vaults out of a fire escape and onto the roof of a van before rolling onto the asphalt). A car chase with a taxicab on its rims is a humdinger and then it's followed with an even more nail-biting scene with Christian handcuffed to the steering column of a car in neutral. In the tradition of Janet Leigh, loose-end protagonists are slain within the first quarter. Robert Davi is his flinty best and Leo Rossi (with the bearded simulacrum of a deadly Grizzly Adams) is rabidly teeth-gnashing as the serial killer Turkell. Turkell's misalliance with Cordell is akin to the loquacious weasel Buscemi and the tacit psychopath Stormare in 'Fargo'. Somehow a zombie Cordell nonchalantly shambling through door frames in a precinct shootout is fodder for a dynamic action sequence. In quintessential slasher movie fashion, a Molotov cocktail can't stymie Cordell's spree and his flame-engulfed rampage through Sing Sing is utterly dazzling. No delusions of loftiness here; 'Maniac Cop 2' is a rarefied sequel that simply sizzles above the ashes of the original.

A decent sequel to the first film, picking up from where the last movie left off, this time, Maniac cop not only kills cops but also saves criminals. Despite being more action packed, the reusing of old footage bugs me plenty. it's not as good as the first film, but it's not too bad either.

Some impressive stunts (including an absolutely jaw-dropping one), decent performances and the overall seediness of the atmosphere almost make up for the shlocky, disjointed, repetitive, nonesensical screenplay and the uneven direction.

Sequel to the awesome Maniac Cop, Maniac Cop 2 is one awesome ride. Not as great as the original, this still manages to deliver awesome Horror thrills mixed with loads of low budget action. For me, the films in this series are by far the best B movie films ever made in the horror genre. They are loads of fun, despite being sleazy and feeling cheap at times. However the filmmakers obviously knew how to pull out something very good despite the fact that the film feels low budgeted. But who cares, right? All the best and greatest horror films of the late 70's and 80's were low budget films. Maniac Cop is just another example of a low budget classic. In this sequel, we get a bit more action than the first and Larry Cohen's script offers just the right amount of both elements(action and horror) to please the audience. In one scene, theres almost an homage to the first Terminator film as the Maniac Cop commits a massacre in a police precinct. The cast here are good Robert Davi is probably the best known actor in the film as he played in Licence To Kill and Die Hard. Robert Davi plays a tough cop on Matt Cordell's trail who is played Robert Z'dar. William Lustig's direction is again, impressive and he manages to get the most out of the actors and achieve a film with lots of action and horror. Matt Cordell is a very unique villain as he helps the criminals and not the victims, he kills the victims and Z'dar plays that character with phenomenal chilling perfection. All in all, not as great as the original, but still awesome in it's own right, and as far as sequels go, Maniac Cop 2 is a terrific follow up to a neglected classic of the horror genre. Maniac Cop 2 is one of the best horror sequels that I have ever seen, violent, horrifying and action packed, this will definitely appeal to fans of the first.
See Details