Map of the Human Heart
(1992)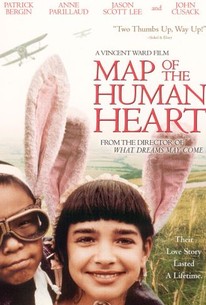 Map of the Human Heart Photos
Movie Info
Vincent Ward directed this beautifully photographed romantic tale about a bold love affair stretching across both years and cultural barriers. The film begins in the Arctic in 1965 as a young mapmaker (John Cusack) arrives in an Eskimo village and meets a drunken old half-caste Eskimo named Avik, who regales the mapmaker with his life story. Avik recalls the arrival in 1921 of another cartographer in their village, the swaggering British mapmaker Walter Russell (Patrick Bergin). Walter discovers Avik (played as a young man by Robert Joanie) is suffering from tuberculosis and rushes him to a sanitarium in Montreal. Avik, who has never been outside his village, is awestruck at the outside world. He is also awestruck by a half-Indian girl named Albertine (Annie Galipeau), and they become friends. But one of the Catholic sisters (Jeanne Moreau) who runs the sanitarium pulls Albertine away from Avik. Ten years later, Walter returns to the Eskimo village. Avik (now grown up as Jason Scott Lee) tells him the village is starving and that they blame him, since he was tainted by the white man in his visit to Montreal. Walter offers to take Avik with him, but Avik must stay to tend his dying grandmother. But he does ask Walter to look up Albertine and tell her he loves her. Walter abides by his request and finds Albertine (now played by Anne Parillaud). By now, Avikhas been abandoned by his village and has joined the air force. He encounters Albertine and the two renew their old love. But there is a complication: Albertine is now having an affair with Walter.
News & Interviews for Map of the Human Heart
Critic Reviews for Map of the Human Heart
Audience Reviews for Map of the Human Heart
Nice. Moving. Touching...even though the style of this movie definitely shows its age. Much has happened in the last 20 yrs to improve productions. To see this movie made again, with todays expertise, would be really fantastic. FYI: John Cusack is in this for less than 5 min...
Cynthia S.
Super Reviewer
½
The movie starts off very well with interesting relationships between Inuit, European and other Meso-American peoples and then switches gears into a sweeping romance. Jason Scott Lee really steps up to and fills his role as an Inuit who is drawn into a world he is unfamiliar with. By the time the film gets to WWII it might as well be Pearl Harbor w/ burning models instead of god CGI. As a note Cusack has a 5 Minute role sitting at a table looking at a map listening to Lee retell his story
Bill Cavros
Super Reviewer
Average film narrative about an Inuit Eskimo's life and his relationship with a half-breed Indian girl that looks like its epic story.
Dean McKenna
Super Reviewer
Map of the Human Heart Quotes
| | |
| --- | --- |
| Avik: | It's all there in the maps. Sometimes all they tell you is that you're lost. |
| | |
| --- | --- |
| Avik: | Why do you want to bomb Dresden? |
| Walter Russell: | There's a monster in a room. Once that room was filled with everything that was valuable to him. His train sets, his puppet theatre, his model planes. They're all broken now. All that's left untouched is his beautiful collection of Dresden China. You go into that room, you smash all his crockery, and you have broken his spirit. |