Siwore (Il Mare)
(2000)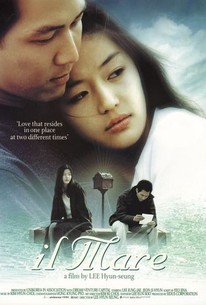 AUDIENCE SCORE
Critic Consensus: No consensus yet.
Movie Info
After Eun-jo (Jeon Ji-hyeon) ends her tenancy of Il Mare, a posh house on a lake, she writes to the new tenant (Lee Jeong-jae) asking for her correspondence to be forwarded. When the tenant replies, Eun-jo discovers that his letter is dated 1997, two years before she contacted him, and that he is the original owner of the property. Il Mare was released in South Korea within a few months of Ditto, another film to explore the themes of national identity and love across time.
Cast
News & Interviews for Siwore (Il Mare)
Critic Reviews for Siwore (Il Mare)
There are no critic reviews yet for Siwore (Il Mare). Keep checking Rotten Tomatoes for updates!
Audience Reviews for Siwore (Il Mare)
½
It is the movie that inspired The Americans to make "The Lake House" (Keanu Reeves, Sandra Bullock), a remake for this movie.. This is a drama-romance movie with the story about the relationship between a man and a woman, living in the same house called Il Mare, only to know that they're two years apart.. All this time, they were communicated through a mailbox just outside the house and when the relationship get deeper, the relationship between those two become more complicated.. The ending, I just can't say how much I love the ending, it is a great ending to end this perfect movie.. The cast did a really good job, even though the credit should be given to Lee Jung-jae rather than Jun Ji-hyun.. The story flows slowly, but it isn't boring.. Instead I just got drowned in every minute of this movie, that makes me won't blink even just for a second.. Overall, it's a great Korean movie, and no doubt it is better than the remake "The Lake House" which is actually pretty good too..
Sanjaya 丘耀文
Super Reviewer
[font=Century Gothic]"Il Mare" starts out with Eun-ju(Ji-hyun Jun), a voice actor, vacating the isolated beach house where she has been living in 1999. She leaves a note in the mailbox for the next tenant to forward her mail to her. Sung-hyun(Jung-Jae Lee), an architecture student who is taking some time off from his studies to work construction, moves into the beach house and receives Eun-ju's message. But Sung-hyun is not the next tenant. He is in fact the first tenant of the house living in 1997. The two start sending each other letters; both finding it hard to believe the circumstances of their correspondence. It takes a while for both people to be convinced of the reality of their situation and that it has to do with the mailbox.(Strange, it did not look any larger on the inside than the outside...)[/font] [font=Century Gothic][/font] [font=Century Gothic]"Il Mare" is a nice looking movie with a very neat premise. But it is episodic and predictable. It certainly helps if you do not think that much about it.(Luckily, there is not much of an explanation given...) Overall, the movie is about missed connections between people and the regrets that we have.[/font] [font=Century Gothic][/font] [font=Century Gothic]I thought the beach house was very cool looking but I don't like the idea of a beach being monopolized like that. [/font]
A magic postbox carries letters between Eun-Joo in 1999 and Sung Hyun in 1997. Solid 100% romance but I was smitten by the house most of all.
.
Siwore (Il Mare) Quotes
There are no approved quotes yet for this movie.