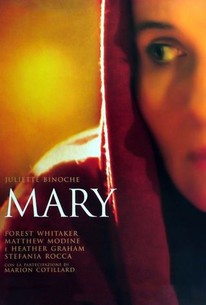 Mary
2005, Drama/Mystery & thriller, 1h 26m
17 Reviews
500+ Ratings
Rate And Review
Movie Info
An actress (Juliette Binoche) undergoes a spiritual transformation after playing Mary Magdalene in a film.
News & Interviews for Mary
Audience Reviews for Mary
"Mary" starts with the wrapping up of a film shoot about the life of Jesus, starring, written and directed by Tony Childress(Matthew Modine). Instead of returning to New York, Marie(Juliette Binoche), his leading lady as Mary Magdalene, flips out and decides to go to Jerusalem. Director Abel Ferrara picks up the story a year later with the imminent and controversial release of the movie but instead of focusing on Tony or Marie, Ted(Forest Whitaker), a television personality, takes center stage by interviewing experts on Jesus, allowing them to simultaneously pontificate and drag the movie down. As Ted's ratings somehow go up, his personal life is falling apart as he argues with his very pregnant wife Elizabeth(Heather Graham), probably because unbeknowst to her, he is having an affair with Gretchen(Marion Cotillard), his producer, who he also ends up betraying. All this proves is that Forest Whitaker can give an excellent performance even when playing a walking cliche. Now there is more than enough in the above to provide a very astute commentary on religion and spirituality(which "Jesus in Montreal" did so very well), but Ferrara never pulls it together into a single coherent thought. Is it supposed to be about how only a spiritual man can make a thoughtful movie about Jesus(which Pasolini disproved anyway) or how much religious violence there is in the world today? Tony is too much a jackass to get a clear sense of what he is thinking(if anything) while Marie simply remains a cipher during her brief time on screen. At least with "Bad Lieutenant," I could see what Ferrara was thinking, even if he was daft enough to put the Mets in god's divine plan. Trust me, it would not work as well with the Yankees...

This film is far ambitious in its range than it is in delivering its message. Despite the cast, there was nothing spiritual in either the characters or the performances,maybe Forest Whittaker's scene of remorse in church towards the end, which was unconvincing. Juliette Binoche was poor in her portrayal of Mary Magdalene, delivering a confused, hysterical portrait of a woman, who is known to be an extraordinary person and the film's central issue. The character played by Matthew Modine was the most convincing in his cynical pride, and this fact said something about the spirit which guides the whole film. Was hard to understand why this film was made, what was it really trying to say? Why actors like Juliette Binoche and the Oscar winner Forest Whitaker got involved with it? They act well, but it's wasted talent. If you are a fan of Bible inspired films you will like this, otherwise there is no good reason to spend the time seeing it.

Good Ferrara film that is very interesting, even if I didn't quite "get it". Once again Ferrara tackles my favourite theme in his films, religion vs faith. Modine plays an obvious Mel Gibson clone who is passionate about Christ, but very self serving. Whitaker is a man who discovers faith and Binoche is an actress who goes crazy. Crazy with Mary Magdelene! Kind of surprised this hasn't gotten a North American release, at least DTV, I mean it's Ferrara! C'mon!
See Details