Masterminds
(2016)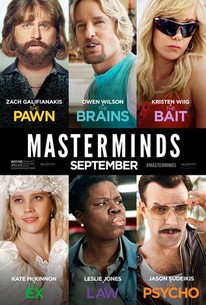 TOMATOMETER
AUDIENCE SCORE
Critic Consensus: Masterminds' great cast and stranger-than-fiction true story are largely wasted on a scattershot comedy with a handful of funny moments and far too much wackiness.
Movie Info
In this action comedy based on true events, directed by Jared Hess (Napoleon Dynamite; Nacho Libre), David Ghantt (Zach Galifianakis) discovers the true meaning of adventure far beyond his wildest dreams. He is an uncomplicated man stuck in a monotonous life. Day in and day out he drives an armored vehicle, transporting millions of other people's money with no escape in sight. The only glimmer of excitement is his flirtatious work crush Kelly Campbell (Kristen Wiig) who soon lures him into the scheme of a lifetime. Along with a group of half-brained criminals led by Steve Chambers (Owen Wilson) and an absurdly faulted heist plan, David manages the impossible and makes off with $17 million in cash...only problem is he foolishly hands the money over to this wild group of double crossers and has been set up to take the fall. With the bandits blowing the millions on lavish and ridiculous luxuries, they leave behind a glaring trail of evidence. Now on the lam and in over his head, David must dodge the authorities, evade a hilarious hit man, Mike McKinney (Jason Sudeikis), and try to turn the tables on the ones he trusted most. (C) Relativity
News & Interviews for Masterminds
Critic Reviews for Masterminds
Audience Reviews for Masterminds
½
I really like the story and the ideas of the scenes. But I'm really disappointed. I expected something more exciting that keeps you steady excited. The scenes had to be more detailed. I honestly like even love the trailer so so so more than the whole movie because of the movement and excitment. It really is nice movie but for that kind of genre of the movie and the idea , it had to be more confident with more details.
Valeri Ivanov
Super Reviewer
½
The gist of this in a nutshell is liberal, college bred, big city types laughing down their noses at the amusing antics of conservative, might not have graduated high school, small town types. It's not enough to carry a whole film, even delivered by SNL luminaries.
Kevin M. Williams
Super Reviewer
The best thing one can say about Masterminds is that it seemingly accomplishes what it sets out to do and be. Of course, that's a pretty solid compliment if you're going for a certain type of quirky/oddball comedy that not everyone will understand or even care to understand. It has always felt as if director Jared Hess (Napoleon Dynamite, Nacho Libre) has marched to the beat of a slightly different drum than any other comedy director and that continues to show in his feature films as he documents characters that are interesting or strange because of the inherent state of their personality rather than documenting the actions of fairly average individuals who are put into extraordinary circumstances. That isn't to say the ensemble cast of Masterminds don't find themselves in the middle of some pretty spectacular circumstances because they do, but this is due to the fact they voluntarily sign up for crazy expeditions rather than them being thrust upon them. Now, this isn't original to Hess' films of course; plenty of comedies find humor in the eccentric and the zany, but Hess notches it up a few levels-making his films feel as if they are operating not in the real world, but from the perspective of these bizarre minds that allow us to see the world how they see it: in unconventional and bizarre ways. This is especially glaring in Masterminds as it reminds us time and time again that what is happening is based on a true story that occurred in 1997 and at the time, was the second-largest all-cash robbery in U.S. history. As with most "based on a true story" movies the film version of these events takes the real life events and paints them in broad strokes though it at least seems that writers Chris Bowman, Hubbel Palmer, and Emily Spivey have kept the general facts of the case intact enough while interpreting those actions to inform character decisions that give way to the more outlandish tone the film sports. Of course, how are we to know that what we're treated to in Masterminds isn't exactly how the real David Ghantt perceived things to be during these time in his life? The point is-it doesn't matter. Whether they were or not I can appreciate that Hess takes on a certain singular style and approach and applies it to every scene making what was already a fascinating story that much more enjoyable...if you enjoy Hess' particular brand of nonsense, that is. read the whole review at www.reviewsfromabed.com
Philip Price
Super Reviewer
Masterminds Quotes
There are no approved quotes yet for this movie.
Discussion Forum
Discuss Masterminds on our Movie forum!