Mercenary for Justice
(2006)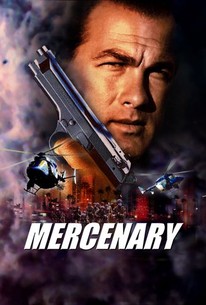 AUDIENCE SCORE
Critic Consensus: No consensus yet.
Mercenary for Justice Photos
Movie Info
A wandering mercenary sets out on a bullet-riddled path of revenge after being blackmailed into staging a daring prison break and subsequently being double-crossed in this explosive action entry starring American martial arts icon Steven Seagal. John Seeger (Seagal) is a soldier of fortune with a reputation for getting the job done. When the son of a billionaire arms dealer is locked away in a South African prison with little hope for freedom, the enraged father uses his far-reaching power and influence to force Seeger into a daring rescue mission. There's much more to this adventure than Seeger knows, though, and upon discovering that he has been hung out to dry by the manipulative extortionist, Seeger sets out to prove that when it comes to the matters of honor, you simply don't mess with the best in the business.
Critic Reviews for Mercenary for Justice
Audience Reviews for Mercenary for Justice
As typical of any Steven Seagal movie, the action is great, but everything else, especially the acting, is horrible. The plot is stupid and so confusing u practically hafta stop the movie just to think about what's going on. Additionally, the ending is totally predictable and so retarded that it almost completely ruins the last 20 minutes of the film (which weren't that bad until the ending happened). Everything in this movie is non sequitur (meaning that one thing doesn't/shouldn't lead to another). The whole plot is this way--carrying out the bank robbery and/or the prison break will not, by any means, achieve Seagal's character's main goal of getting his merc comrade a proper military burial. This film is just plain dumb, though it could've been decent if they'd stuck w/ more action sequences instead of trying to develop this ridiculous plot.
Stephen Skudlarek
Super Reviewer
Mercenary for Justice Quotes
There are no approved quotes yet for this movie.