Michael
(2012)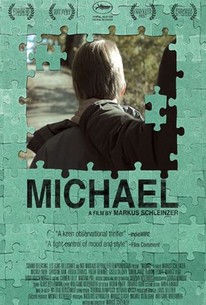 Movie Info
Michael (Michael Fuith), a seemingly meek insurance agent, has a secret: he's holding 10-year-old Wolfgang (David Rauchenberger) captive in a locked room in his basement. Chronicling a five month period, director Markus Schleinzer reveals a tense portrait of how seemingly mundane lives can hide the darkest secrets. Michael is a masterfully executed study of a monster with rich cinematic detail and unnerving insight. -- (C) Strand
People Who Like this movie also like
News & Interviews for Michael
Critic Reviews for Michael
Audience Reviews for Michael
½
A deeply disturbing character study that takes on the hard task of humanizing a monstrous psychopath, focusing on a three-dimensional human predator who is able to blend into society like many others - but wisely never offering easy reasons for his despicable actions.
Carlos Magalhães
Super Reviewer
The central lesson of the movie "Michael" is that if you think there is something wrong with the mild-mannered, accident-prone, eyeglass-wearing, balding man who eats lunch alone everyday but still remains something of a magnet for lonely middle-aged women, then you are absolutely right. In the case of Michael(Michael Fuith), who works in an insurance office, it is that he is a pedophile, having kidnapped Wolfgang(David Rauchenberger) who he keeps in his soundproofed basement, except for the one time when he takes him on an outing with him because apparently people care more about their lost pets than sexual predators. And that's pretty much it, as the movie goes along in its own matter of fact and low key way, not even taking advantage of Michael's hospital stay to raise the suspense level at all. For the record, I generally respect unconventional storytelling but one should try to aim higher than a prolonged shaggy dog joke.
***1/2 out of **** Michael (Michael Fuith) is a shy little man who works a competent job and seems to live a competent life with a competently spacy home and a competent body. In the eyes of pretty much any German citizen, he'd be a pretty decent working class male. He's not particularly social but his behavior doesn't appear destructive. This is what Michael appears to be on the outside; just an average Joe. But as we see him return home on the night that the film begins, we witness the opening and closing of the fateful blue safe-like door in the basement; which conceals a small room behind it in which a young boy named Wolfgang (David Rauchenberger) is being held captive. Michael only lets Wolfgang out of his room between meals and occasionally to watch some evening television. Afterwards, he'll take the kid back to his room, close the metal door, and rape him. Michael is a meek gentleman on the outside and a pedophile monster on the inside. But nobody has to know this. The child has been his worst kept secret for what feels like a while now. But then again people don't usually come by his place often anyways. He's broken off most contact with the outside world for the mere satisfaction of his confused penis. I can totally understand the guy. At times, Markus Schleinzer's "Michael" borders on being exploitative. While the disturbing acts that are the film's central themes are shown mostly off-screen, it also lacks the finger-wagging moralism of most Hollywood pictures covering the topic of pedophilia although I think that is precisely why it is so effective, haunting, and horrifying. Most people will not think twice before writing Michael off as just another monster who needs to be locked away from society (even though he essentially does that on his own); while some, like myself, will view the film as a chance to see things from his point of view. We aren't supposed to sympathize with his problems, which aren't even presented as problems, but I think it's better off that way. The relationship between Michael and Wolfgang is strange and disturbing. Sometimes by day, Michael will take the boy out to the park or something like that; he's convinced the child that his parents don't want him back and that it's basically useless to run at this point, so Wolfgang puts up with everything that he has to go through. There are almost distressingly tender scenes in which these two clean together, play games together, and are able to uphold awkward yet decent conversations; while we also see them at their worst, in some truly brutal and uncompromising scenes. The film is sad, tragic, and real all at the same time; and it creeps up on you in such an unexpected way that it imprints images and concepts in your mind that won't soon leave. I love movies like this. Movies that refuse to conform to clichés or common stylistics. Films that have the bravery to exist on their own terms and according to their own rules. "Michael" achieves an impeccable sense of unease through a minimalist style and the brave, dedicated performances of both Michael Fuith and David Rauchenberger. The film is probably going to upset a lot of people with its grit and realism; there is an element of dark humor that will probably come off as particularly off-putting. But if you want a movie that doesn't sugarcoat the truth and doesn't try to shallowly moralize it, then you've found it. In a review, I'm supposed to recommend the movie for a certain audience. I think with a fantastic and creepy film such as this, the only audience that I can recommend it to is the one that's most like me. Conventional movie-goers be damned; for this is not a conventional movie, and it's not afraid to cross a few lines. It's exploitation with artistic purpose.
Ryan Marshall
Super Reviewer
Michael Quotes
There are no approved quotes yet for this movie.