Miffo
(2003)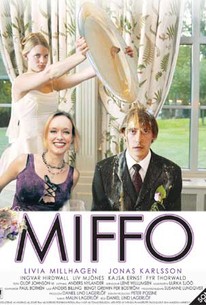 AUDIENCE SCORE
Critic Consensus: No consensus yet.
Movie Info
Daniel Lind Lagerlof's romantic comedy Miffo stars Jonas Karlsson as a minister who is unhappy with the work he has been doing in a large church and applies to work in a small community. There he meets Carola (Livia Millhagen), a woman who is wheelchair-bound but is bursting with life, and her unemployed mother Sonja (Kajsa Ernst). As is to be expected from the genre, the two opposites soon grow to love one another and change each other's lives. Miffo was screened in competition at the Montreal Film Festival.
Critic Reviews for Miffo
All Critics (1) | Fresh (1) | Rotten (0)
The cliché of the idealistic young preacher learning a few lessons from the real world gets an energetic workout in this Swedish import.
Audience Reviews for Miffo
½
[size=5][color=olive][b]MIFFO (2003)[/b][/color][/size] [img]http://www.filmweb.no/bilder/multimedia/archive/00087/Miffo_87627m.jpg[/img] [color=green][b][i]This Swedish movie directed by Daniel Lind Lagerlöf it's perfect for long winter nights in Sweden when there is nothing better to do... and TV is not a valid option... I'll suggest having a company of the opposite sex because this movie will be best to watch in company of two! [img]http://www.filmweb.no/bilder/multimedia/archive/00013/Miffo_13210m.jpg[/img] Young man Tobias Nils Carling (played by Jonas Karlsson) is becoming a priest and is trying hard to wake up the interest of the uninterested community and bring them back to church... Not much success, though... While trying hard to please everyone he meets young girl, who is disabled and in that process of falling in love he starts doubting his faith! The girl is completely different from any other girl he was going out with and he can't fit her in any of the stereotypes recommended by his parents, rich and highly educated... [img]http://www.imcdb.org/images/203/025.jpg[/img] Young girl lives with her mother who is alcoholic and she is not a stranger to many young and older lonely man from the town... Everything is perfect until this part of the movie where the clichés are employed and that is the part where the movie reaches the lowest point... [img]http://www.imcdb.org/images/203/016.jpg[/img] Artistically there is not much inspiration in this work of art but opens the window of different thinking in uncommon situations... often very funny ones! And don't forget that I told you that this movie is for long WINTER NIGHTS! It's not for a warm summer nights when there is much better things to do! [img]http://www.imcdb.org/images/203/020.jpg[/img] Acting of Livia Millhagen was superb as girl in wheelchair Carolu Angelique Christiansson...[/i][/b][/color]
Miffo Quotes
There are no approved quotes yet for this movie.