Miss Representation
(2011)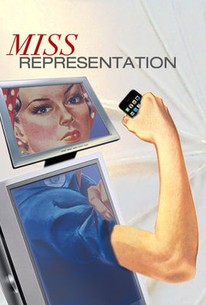 AUDIENCE SCORE
Critic Consensus: No consensus yet.
Miss Representation Photos
Movie Info
In 2010, women are better represented on television, in movies and in the news media than they have ever been in the past. However, while this increased visibility had led many believe that women have achieved something like equality, the truth is women have a long way to go before they achieve anything close to parity, as women count for only seventeen percent of elected officials in Congress and seven percent of working directors of feature films. Actress turned filmmaker Jessica Congdon Newsom studies the obstacles women face in the media and the stereotypes that still define them in the documentary Miss Representation. Featuring interviews with noted figures in politics (Nancy Pelosi and Condoleeza Rice), broadcast news (Katie Couric and Rachel Maddow), television (Margaret Cho and Lisa Ling) and movies (Geena Davis, Rosario Dawson and Jane Fonda), Miss Representation explores the glass ceiling that many women in the media still struggle to break and the double standards applied to women in terms of appearance and persona. Miss Representation was an official selection at the 2011 Sundance Film Festival.
Critic Reviews for Miss Representation
All Critics (3) | Top Critics (1) | Fresh (3) | Rotten (0) | DVD (1)
This film needs to be watched by teenage girls, for whom it may well serve as both a wake-up call and a course called Women's Images in Media 101.

Miss Representation is exciting and empowering, yet simple and entertaining. It's a must-see.

It may feel like the barely cinematic equivalent of a grad school thesis, but it's also a documentary that will spur conversations, one that could inspire and change lives.
Audience Reviews for Miss Representation
Miss Representation does an excellent job of highlighting what is wrong with how media depicts women in society and how debilitating the media's messages to women and girls are. It shows how much pressure is put on women and girls to look and act a certain way and as a result, they are not appreciated for their intellectual abilities. Important to note, is that media places a women's value in her body. Miss Representation supports the notion that children learn through what they see in the media and their parents do as well. It shows that as media models how girls are supposed to look and act, that will only be reinforced throughout society in the workplace, in school, and even at home. If the media continues to showcase the images of females that it has been for years, girls will continue to be judged for how sexy they are and what mood they are in. A clip from "The O'Reilly Factor" with a guest commentator (male) shows the guest's very clear opinion that a woman cannot be in the oval office because of PMS and mood swings. Just from this one clip, the documentary shows that there is an even bigger problem in society for women in addition to the extreme pressure to attain a very specific ideal image of beauty. A female's biology is also scrutinized. In addition to society's aversion to a female's reproductive system, by expecting a female to have a flat stomach (one of many expectations) society is essentially taking away her uterus. Miss Representation also places importance on the fact that men who are exposed to images of females in the media learn to compare women who they meet to those images. They learn to expect from women what the media expects from them. Overall, the documentary does an effective job of showing that media's portrayal of gender is a problem. And since this documentary has been produced, I am sad to see that there has been very little change.
Caroline Friedland
½
This documentary is extremely vital to today's society. Not only is it a wake up call for people everywhere, it will especially help females who are struggling with their image and being informed they aren't alone out there. The facts presented up front are life changing, this changed some views I had on society completely. This is an important film that everyone in this day and age need to see. A-
Campbell Petschke
½
Miss representation started off well with a true story, but then it suddenly became political and went straight down hill. Although the film has a nice message, it was biased, manipulative, ignorant and inconsiderate. Just by interviewing people with no real qualifications and throwing clearly biased stats will not make the educated viewers more sympathetic towards the real issue. Why is the film only focusing on Hollywood? There are more than just Hollywood and California in this world please. The film really needed a direction, it wasn't going anywhere and keeps circling around the same themes. The editing was probably the worst part of the film, even a 3 year old can do a better job than the editor of the film. It is informative and all that but trust no liberal films.
Sylvester Kuo
Super Reviewer
Miss Representation Quotes
There are no approved quotes yet for this movie.
Discussion Forum
Discuss Miss Representation on our Movie forum!