Missionary Man
(2007)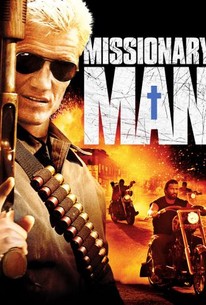 AUDIENCE SCORE
Critic Consensus: No consensus yet.
Movie Info
A Bible-toting angel of vengeance descends upon a small-town determined to deliver the frightened residents from a ruthless tyrant in this explosive action thriller from writer/director/star Dolph Lundgren. Ryder (Lundgren) is a mysterious wanderer with a thundering motorcycle, plenty of firepower, and ammunition to spare. Upon arriving in a small town that is currently caught under the thumb of an oppressive despot, Ryder immediately recognizes just how desperate the people who live there have become. Now, as the bullets start to fly and the bodies start to drop, this relentless vigilante refuses to stop shooting until his plan for regime change has been fully executed.
Critic Reviews for Missionary Man
All Critics (3) | Fresh (2) | Rotten (1)
a clear homage to the standard western story of a stranger riding into town to save the day
A pale imitation of the Pale Rider sub-genre of Westerns, this modern version does have one endearing original touch
...one can't help but appreciate the inclusion of several entertaining and downright brutal acts of violence - one particularly hapless baddie receives a point-blank shotgun blast to the face...
Audience Reviews for Missionary Man
½
Dolph's best film for some time. Its just a remake of many western movies. Loner comes into a town under gang or mob control and cleans it up. Very predictable and quite violent yet its pretty good. The native American Indian story line behind it is nice and it gives it good visuals. The whole thing is a little dull until the final showdown between Dolph and a large gang of hired bikers in the streets. Harks back to Clint's classic showdowns in the 'Dollars' trilogy. Silly but fun trash with good violence.
Phil Hubbs
Super Reviewer
An instant classic. Dolph Lundgren has never been better, he gives his best performance yet in his best directional feature. A riveting, hard-hitting, exciting and well-crafted action flick. An explosive and exhilarating action-packed thrill-ride in the tradition of old-school western film territory. A powerful and adrenaline-fulled non-stop action movie. This is definitely Lundgrens best film yet as a director and actor, keeping his action hero status in check and showing a different side of him as well. A sharp, really cool, stylish and pulse-pounding adventure that never lets up. This film is flat-out awesome. It's a rougher and tougher mixture of Pale Rider meets Walking Tall. It's flat-out sensational.
½
Star-director-writer Dolph Lundgren follows Clint Eastwood's footsteps of western film, Pale Rider into this action film which looks familiar in the story. But Lundgren's works in his movie is average and not enough and exciting action scenes.
Dean McKenna
Super Reviewer
Missionary Man Quotes
There are no approved quotes yet for this movie.