Monsturd
(2003)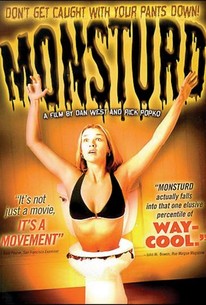 AUDIENCE SCORE
Critic Consensus: No consensus yet.
Movie Info
For those who think horror films just don't center on human feces enough comes this low-budget poop-laden flick from director Dan West. Monsturd stars Brad Dosland as a homicidal maniac who is presumed dead. However, when a sewage plant and some freakish genetic experiments are thrown into the mix, the killer is back and stinkier than ever. Paul Weiner and Beth West also star.
Critic Reviews for Monsturd
Audience Reviews for Monsturd
½
Other than a few (three to be exact) chuckles it's exactly as bad as you'd think.
A.D. Villarreal
Super Reviewer
Ive seen tons of movies about killer everything from snowmen to gingerbread men but this one does take tops as haveing the weirdest killer of them all a full grown stinking Shit yes shit monster. A serial killer escapes from jail just to get hunted down in the sewers and shot thats when the fun starts his DNA is mixed with some kinda toxic sludge that tranforms him into the above title MONSTURD im not sure i can recommend this to anyone though its played mostly for laughs so anyone with a taste for this kinda movie by all means see it other then that just pass and find something else
If you feel like watching a movie about a killer piece of shit going around causing havoc, then see this movie. This movie is a fucking joke...but a funny joke. I laughed my ass off. I can't believe they made a movie like this, and I can't believe I actually watched it. This movie is poo poo, but I still laughed a lot. I recommend this but only as a joke, and nothing more. A killer turd! Come on now...it doesn't get better then that, lol.
jd cryptic
Super Reviewer
Monsturd Quotes
There are no approved quotes yet for this movie.