Montevideo, Bog te video: Prica prva (Montevideo: Taste of a Dream)
(2010)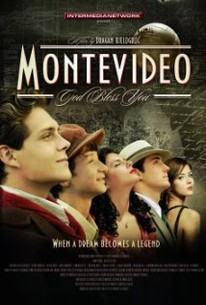 AUDIENCE SCORE
Critic Consensus: No consensus yet.
Movie Info
A story about one team that decides to follow a dream that takes them on a journey to the First World Football Championship in Montevideo, Uruguay in 1930. A dream that allows them to become true stars and living legends.
Critic Reviews for Montevideo, Bog te video: Prica prva (Montevideo: Taste of a Dream)
There are no critic reviews yet for Montevideo, Bog te video: Prica prva (Montevideo: Taste of a Dream). Keep checking Rotten Tomatoes for updates!
Audience Reviews for Montevideo, Bog te video: Prica prva (Montevideo: Taste of a Dream)
This is a real hidden gem directed by Dragan Bjelogrlić about the events leading to the participation of the Yugoslavia national football team at the first FIFA World Cup in Montevideo, Uruguay in July 1930. This is one of the best screenwriting I've seen in a long time! I wish that some of the actors were up to it, but even with a crew like this it is worth watching! The film was awarded the 'Audience Choice Award' for best film in the main competition program at the 33rd Moscow International Film Festival. "Montevideo, Taste of a Dream" was Serbian Oscar candidate for Best Foreign Language Film, as well. It is a sport story of sportsmen who want to live and play, to feel and experience everything possible... actually it is so different from any other sport's movie that I am not sure if it's not more suitable for some other categories. Humorous, sometimes rough around the edges, gives you that feel of real life and how it should be when you're living that life in its fullness! Enjoyable, inspirational, lifting, with lots of panache and uniqueness! What more do you want? I hope you'll have a chance to see it soon!
½
I got this recommendation from a friend, for some time now, and I regret to have not seen it before, it was surely an enjoyable movie, which I have not seen for some time. The script was really wonderful, funny and touching, specially how it was narrated by a 9 year old boy. It was the story of some Serbian men who had nothing but a crazy dream, and they did anything to make it happen. Also a country, former Yugoslavia and Serbia who was trying to rebuild itself and their football. The acting was really good, I was captivated by the players, specially the two lead actors, and it was a joy seeing them struggle to prove they could play football in a time when almost no one knew what football was. The scenes were beautiful, showing Belgrade in the 1930s, and the simplicity of football back then. Hat off for the amazing music score,which was for me the best part, so beautiful, so touching, simply indescribable.Congrats to the director and actors and the composers, they made a hell of a movie, that afterwards you still want to talk about it.
Daisy Maduro
Super Reviewer
Montevideo, Bog te video: Prica prva (Montevideo: Taste of a Dream) Quotes
There are no approved quotes yet for this movie.