Moonlight and Valentino
(1995)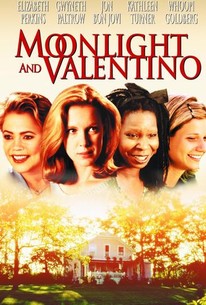 Moonlight and Valentino Videos
Moonlight and Valentino Photos
Movie Info
Three women gather 'round to support a newly widowed friend and ultimately find themselves compelled to look at their own identities as they try to cope with their innermost conflicts, fears, fantasies, and feelings in this psychological character study that is both funny and touching. The story is based upon a partially autobiographical play by Ellen Simon (the daughter of legendary playwright Neil Simon). When pretty young wife and college professor Rebecca Lott learns that her adored husband has been run-down by a car and killed during his morning jog, she at first refuses to acknowledge the fact that he is gone. Even when talking to her best friend Sylvie, she refuses to acknowledge that she is a widow. Rebecca then attempts to reassemble her life and carry on with her profession. Sylvie and family members Alberta, her strong-willed, ultra pragmatic ex-stepmother Alberta, and her troubled sister Lucy, who is still a virgin, rally around to help Rebecca cope. As they do, their own fears gradually begin to surface. Sylvie is terrified that her husband will leave her, while Lucy has never recovered from the death of her mother and is angry at Alberta for being so overbearing. Lucy also dislikes her body and is afraid of getting involved with men. Time passes and the friends give Rebecca an interesting birthday present, a virile house painter. His seductive presence causes even more self-discovery on the part of the four women.
Critic Reviews for Moonlight and Valentino
Audience Reviews for Moonlight and Valentino
The film handles a tough subject matter pretty well. Elizabeth Perkins stands out in the good cast. It's a little too talky for my taste and it tends to be a bit too pretentious as well.
James Higgins
½
(from The Watermark 10/13/95) MOONLIGHT & VALENTINO (Elizabeth Perkins, Whoopi Goldberg, Kathleen Turner, Gwyneth Paltrow): An uneven story about a woman (Perkins) whose husband dies unexpectedly, and is helped through the mourning process by her sister (Paltrow) and her friends (Goldberg and Turner). Also assisting is a pretty-boy painter (Jon Bon Jovi) who catches Perkins' eye. Perkins' performance is Oscar-worthy, even if the film itself isn't. Queer Quotient: Any film that exploits men as mere sex objects is OK in my book. Is it me, or is Bon Jovi's hair more touched up than the women's? And why are his eyebrows drag-queen thin? As if they had to work to make him the prettiest one in the movie.
David Almeida
Oh god oh god I hated this film. I know for some it is a sweet chick flick but it just seemed incredibly contrived to me. No sense of plot whatsoever. Just throw characters and situations onto the stage and expect the audience to cheer... Somehow it made the theme of women going through difficulty and relying on friends for support seem trite and pukeworthy. And that is a real disservice. Boys on the Side recycled most of this film into something better. But Moonlight and Valentino is just garbage. I can't say it strongly enough: this may be the worst movie I've ever seen.
Andy Hilal
Moonlight and Valentino Quotes
There are no approved quotes yet for this movie.
Discussion Forum
Discuss Moonlight and Valentino on our Movie forum!