Mudbound
(2017)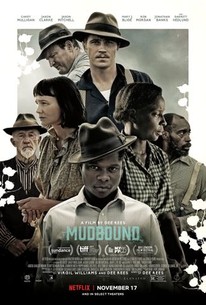 TOMATOMETER
AUDIENCE SCORE
Critic Consensus: Mudbound offers a well-acted, finely detailed snapshot of American history whose scenes of rural class struggle resonate far beyond their period setting.
Movie Info
Set in the rural American South during World War II, Dee Rees' Mudbound is an epic story of two families pitted against one another by a ruthless social hierarchy, yet bound together by the shared farmland of the Mississippi Delta. Mudbound follows the McAllan family, newly transplanted from the quiet civility of Memphis and unprepared for the harsh demands of farming. Despite the grandiose dreams of Henry, his wife Laura struggles to keep the faith in her husband's losing venture. Meanwhile, Hap and Florence Jackson - sharecroppers who have worked the land for generations - struggle bravely to build a small dream of their own despite the rigidly enforced social barriers they face. The war upends both families' plans as their returning loved ones, Jamie McAllan and Ronsel Jackson, forge a fast but uneasy friendship that challenges the brutal realities of the Jim Crow South in which they live.
News & Interviews for Mudbound
Critic Reviews for Mudbound
Audience Reviews for Mudbound
Dee Rees should receive a lot of high praise as the film doesn't wallow too much in misery nor become unrealistically sentimental, both of which would have been easy with the material. Also, the transitions between the different character perspectives are seamless.
Alec Barniskis
Super Reviewer
½
The incredibly good word about Mudbound is what piqued my interest, as it usually does... and I'm so glad I decided to look into it. Set in the rural south before, during, and after World War II, Mudbound follows two families; one black and one white, both of whom send a young member of each respective family off to fight in the war. When they return, they're changed men. Despite their differences in color and social status, the two hit it off and bond over the same struggles they endured during their time away from home. The two boys are played by Garrett Hedlund and Jason Mitchell, both who turn in knockout performances. Other members of the families are played by a wide cast of consistently great performances including Carey Mulligan, Jonathan Banks, Jason Clarke, and Mary J. Blige. The humanity and genuine qualities of these characters make it impossible not to be invested in them, and the ending is simply glorious. It was produced by Netflix, who is rapidly proving themselves to be a force to be reckoned with throughout the film industry. Mudbound has everything going for it: story, directing, acting, and cinematography. It's one of the most complete packages of 2017 and will surely make an appearance at the Oscars.
Kevin Mozulay
Super Reviewer
½
Netflix hasn't had the best track record when it comes to original feature films, but there's always been that rare occasion each year with films like Beasts of No Nation or Tallulah (at least in my opinion), and I truly believe that they've just released their greatest feature film to date. Premiering in film festivals around the world, this film has been highly anticipated for film lovers and it didn't disappoint. Mudbound tackles many issues that have been explored throughout countless movies in the past or even in recent memory, but when a movie can captivate you with its characters and truly make you care when things begin to happen to them, then you've made a real gem of a film. Mudbound is no exception to that notion and here's why I believe it deserves all the attention it's getting. Although I'd say I loved every second of this film in retrospect, it does take a while to win you over throughout its first act. After returning home from World War II, a few men have to deal with the racism in their hometown that was absolutely absent while they fought overseas. Dealing with racism isn't anything new in terms of film exploration, but it's sold very well here. It's done in such a way that feels fresh and old at the same time. Many instances filled my eyes with tears at how brutal some of the imagery was, leaving me speechless. Yes, this film can feel a little long, but that's where the cast comes into play, giving the movie a much greater pace. Although casting talent like Garrett Hedlund, Jason Clarke, Carey Mulligan, and Jonathan Banks only added to the depth between characters here, Jason Mitchell is the true standout and I believe people will be talking about him for awards in the coming months. His portrayal of Ronsel literally had me in tears upon each climactic moment he was involved in. Watching his particular journey from war hero to being immediately degraded for having done absolutely nothing wrong, except for being a different color was quite awful to experience, but the arc that his character goes through is well worth the wait. As I mentioned before, the first act of this film can feel very slow and I was pretty bored, to be honest, but trust me, it's only that way so that it can take its precious time to give the audience a lay-up and have them settle into this world and care about the characters in it. By the time the third act kicks in, there are some truly emotional moments between characters and one standout scene that I'll be remembering for quite some time between Hedlund and Mitchell. Their chemistry was out of this world to me and their scenes had me completely forget that I was watching a movie. In the end, this is a well-shot, very well-scored, and wonderfully acted period drama that had me in tears by the time the credits started to roll. While it doesn't necessarily do anything new in terms of the emotional impact of racism back in the day, it finds a way to put a new spin on it and make you feel all kinds of emotions that even movies like 12 Years a Slave didn't. Yes, I know that's a bold statement, but Mudbound is exactly the movie I've been looking for in terms of this particular storyline. While the slow pace may not be for everyone, if you can invest yourself in a somewhat lengthy drama, Mudbound is now streaming on Netflix and I can't recommend it more.
Mudbound Quotes
There are no approved quotes yet for this movie.
Discussion Forum
Discuss Mudbound on our Movie forum!