Musta jää (Black Ice)
(2007)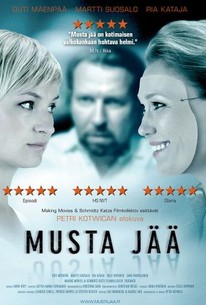 AUDIENCE SCORE
Critic Consensus: No consensus yet.
Musta jää (Black Ice) Photos
Movie Info
Upon discovering that her husband is having an affair, a Helsinki gynecologist attempts to gather more knowledge about her rival and, in the process, becomes hopelessly entangled in the other woman's life - partially on purpose but primarily out of happenstance. Saara is pretty, elegant, liberal, and friendly to a fault. Yet while surface appearances would suggest that Saara is something of an open book, the truth is that lately no one has looked deeper enough to notice otherwise. Driven by jealousy to find out why her husband Leo has grown distant as of late, the sleuthing wife soon discovers that her spouse has recently entered into an affair with a young student and part-time martial arts instructor named Tulli. Her desire to learn more about Tulli growing with each passing hour, Saara eventually signs up as a student in one of the woman's self-defense classes. Eventually, Saara integrates herself into Tulli's life by blending fact and fiction to create a new persona. While Saara's crafty bid to find out more about Tulli without revealing her true identity is indeed successful, her deceptions start to snowball after she creates a fictitious lover in order to mislead her husband. The satisfaction of turning the tables on her husband gradually begins to dissipate, however, when the complex web of deceit becomes too unwieldy to maintain, plunging everyone involved into a hopeless cycle of despair and revenge.
Critic Reviews for Musta jää (Black Ice)
Audience Reviews for Musta jää (Black Ice)
½
A tense psychological thriller that grows gripping and suffocating as we follow a cheated woman carrying a twisted plan of revenge till the last consequences - and it is brilliantly directed, paying great attention to details, and with two amazing performances by the lead actresses.
Carlos Magalhães
Super Reviewer
½
An average psychological drama about love and betrayal. Unfortunately, they didn't focus enough on exploring emotions to its brink and developing chemistry between the characters. It rather swayed through the portions. There are some engaging moments, but they're few and far between. The performances were okay, but not great enough to make up for the movie's flaws. Besides, I thought maybe there's something in store for the ending, but that too turned out to be a a bummer. Yet, all in all, the movie falls under the "watch and forget" category. It's not bad, in fact, had they put in a bit more of effort, it had the potential to bag an Oscar............... JK.
familiar stranger
Super Reviewer
Psychological and very sexy thriller in a game of cat and mouse. What Black Ice tends to focus on is honor and honesty more than actual love. The partners are together, but it's never clear as to why. In one instance we find out that the marriage at the center of the movie has had all of its big moments marked by an affair. Maenpaa gives a fantastic performance as a woman investigating her husband's affair. She wants answers, but doesn't resort to petty violence or making a scene. Towards the end she does begin to crack. A more malicious character is shown, but at the same time we understand where the aggression came from. People justify their actions, but more people end up getting hurt. It's never terribly shocking, but the way the director handles conflict is very imaginative. The non-violent martial arts lessons, showing a restrained form of anger where all the punches are being thrown by the looks in the eyes. Stunning cinematography that captures the frozen landscapes, and a haunting and chilling score also provide extra atmosphere.
Luke Baldock
Super Reviewer
Musta jää (Black Ice) Quotes
There are no approved quotes yet for this movie.