Mutant Girls Squad (Sentô shôjo: Chi no tekkamen densetsu)
(2010)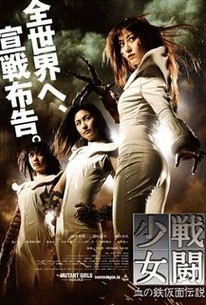 AUDIENCE SCORE
Critic Consensus: No consensus yet.
Movie Info
A teenage girl takes on the powers that be who have plans for her and her friends in this over-the-top sci-fi action yarn from the filmmaking team of Noboru Iguchi, Yoshihiro Nishimura and Tak Sakaguchi. Rin (Yumi Sugimoto) has always felt like an outcast among her classmates and peers, and as she's about to turn sixteen, she finds out why -- while her mother (Maiko Ito) is human, her dad (Kanji Tsuda) is a Hiruko, a race of mutant creatures whose bodies transform themselves in strange ways and can sprout weapons at will. Defense Minister Koshimizu (Naoto Takenaka) has launched a crusade to eliminate the Hirukos in the name of public safety, but Rin's father tells her of an underground Hiruko alliance who are fighting for their right to survive, and after the death of her parents, Rin makes her way to a training camp for young Hirukos. Rin, who now has long blades where her fingers used to be, teams up with fellow teenage warriors Rei (Yuko Takayama), Yoshie (Suzuka Morita), Sachie (Cay Izumi) and Chiako (Naoi Nagano), all of whom have unique bodily weapons of their own, as they set out to take down Koshimizu. Sento Shojo: Chi No Tekkamen Densetsu) (aka Mutant Girls Squad) received its North American premiere at the 2010 New York Asian Film Festival.
Critic Reviews for Mutant Girls Squad (Sentô shôjo: Chi no tekkamen densetsu)
All Critics (1) | Fresh (0) | Rotten (1) | DVD (1)
Everyone involved knows what kinds of movies they're making here and simply seem to hope that the small audience for them appreciate the skin and violence on display.
Audience Reviews for Mutant Girls Squad (Sentô shôjo: Chi no tekkamen densetsu)
½
On her 16th birthday a bullied teenage girl discovers she's really a half-breed mutant with a claw for a hand; she joins up with others of her kind but must decide if she will help destroy humanity and usher in an age of mutants. Just like Troma movies, if you've seen one of these ultraviolent Japanese mutant gore comedies from Sushi Typhoon, you've pretty much seen them all; it's a formula, and the only creativity is the way they tweak the weaponry details (this one has a cheerleader mutant with a chainsaw in her butt and soldiers with guns strapped to their noses).
½
This is a bit funny and entertaining just like Tokyo Gore Police as well as it's so silly and over the top with gore that people show actual acting skills. The main three girls are all uber sexy, and show range. My review of this bizarre Asian variation of X-Men with the word "relentless," which perfectly summarizes the film -- though that's not necessarily a negative thing depending upon one's tolerance for non-stop visual assaults of gore, depravity and toilet humour.
Dean McKenna
Super Reviewer
More zany, over the top action and gore from Machine Girl team.
Mutant Girls Squad (Sentô shôjo: Chi no tekkamen densetsu) Quotes
There are no approved quotes yet for this movie.