Neo-Tokyo
(1986)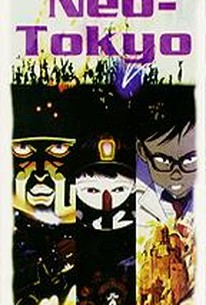 AUDIENCE SCORE
Critic Consensus: No consensus yet.
Audience Reviews for Neo-Tokyo
Made in 1986, Neo Tokyo is a collection of three animated shorts by famous animation directors Rintaro (Metropolis), Yoshiaki Kawajiri (Ninja Scroll), and Katsuhiro Otomo (Akira) prior to their breakout hits. Also known as Labyrinth Tales, the stories aren't connected by a central theme but go in a variety of directions. Much like its siblings (Robot Carnival, Memories, Genius Party, and The Animatrix) it has something unique to offer fans of animation. Labyrinth-Labyrintos, the opening and ending segments, show a young girl playing hide and seek with her cat, only to be swallowed up by a melancholy dream world where she is invited into a freaky circus. This is the most experimental of the three, and breaks the mold of typical anime with a gleefully amorphous style. At only 10 minutes it doesn't really have much to say but serves as a decent bookend to the collection, though it leaves you with the impression there should be more than just a couple in between. The following segment, The Running Man, is probably my favorite. Zach Hugh is the champion of a futuristic racing league called the Death Circus, where hovercraft race at insane speeds around gravity-defying tracks. A reporter is doing a story on the 10-year veteran when he discovers his secret to success: some kind of paranormal power. In the end he is undone by the stress of producing his supernatural attacks, but not before passing the finish line in first place, haunted by the ghosts of his former rivals. I don't have any way to back this up, but I believe this film was the inspiration for futuristic racing video games like F-ZERO and Wipe Out, as well as the ghost racers that often appear in those games. The final segment, The Order To Stop Construction, is the longest clocking in at about 20 minutes. A hapless salaryman is sent to stop the fully automated construction of Facility 444 in a fictitious South American country when the new government refuses to honor the contract. Unfortunately, the robots are programmed to continue construction no matter the consequences and he's almost killed by one of the robotic workers that sees him as a threat. Against all odds he finally manages to shut down the robots, only to discover that the old government has been restored and want to go ahead with the plan. This funny short is particularly interesting in that it shows director Katsuhiro Otomo's talent prior to his major debut with Akira. Neo Tokyo isn't my favorite anthology of animated shorts, but it's worth checking out if you're into this sort of thing. And clocking in at less than an hour, it's not much of a commitment if you're unsure about it. This review is a repost from my site: www.plasticpals.com
Robotbling -
Super Reviewer
Neo-Tokyo Quotes
There are no approved quotes yet for this movie.