Not Like Everyone Else
(2006)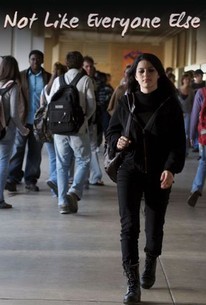 AUDIENCE SCORE
Critic Consensus: No consensus yet.
Not Like Everyone Else Photos
Movie Info
A free-thinking student gets accused of witchcraft in the wake of the Columbine high-school shootings in this made-for-cable docudrama. The child of working-class parents who struggle to keep their kids in a good school district, Brandi Blackbear (Alia Shawkat) hopes to one day become a horror novelist. But after a run-in with a snobby classmate (Laura Wiggins) who accuses her of creating a "hit list" of enemies, overzealous administrators decide she's a threat and suspend her for the rest of the semester, confiscating her creative-writing notebooks while they're at it. Dropped by her nerdy pal Casey (Simone Carter), Brandi eventually returns to school and finds solace with new buddy Noah (Josh Blaylock). But after Brandi begins researching the pagan religion of Wicca for a short story, one of her teachers (J.D. Evermore) falls ill and she finds herself accused of witchcraft. It's only with the help of an ACLU attorney (Gary Grubbs) and a multimillion-dollar lawsuit that Brandi manages to defend her civil rights and stand up for her freedom of expression. Directed by horror and TV-movie vet Tom McLoughlin, Not Like Everyone Else co-stars Illeana Douglas and Eric Schweig as Brandi's conflicted parents. It premiered July 10, 2006 on the Lifetime cable network.
Rating:
NR
Genre:
,
Directed By:
Written By:
In Theaters:
Runtime:
Studio:
Jaffe/Braunstein Entertainment LLC
Critic Reviews for Not Like Everyone Else
There are no critic reviews yet for Not Like Everyone Else. Keep checking Rotten Tomatoes for updates!
Audience Reviews for Not Like Everyone Else
½
It is hard to believe this movie was based on a true story.
Interesting to see a movie about the post days of Columbine in nearby schools. It showed not all kids who are different are up to something bad. Good movie with a message.
Jennifer Torres
like my high school life like any high school there are "mean girls", and all they do is want attention and some1 to laugh at , and to get others and trouble and take the blame, its stupid how the school didnt do anything about really till the end , and nobody listened to her, like i said until the end "Shortly after the Columbine High School massacre, Union Intermediate High School (in Tulsa, Oklahoma) was one of many schools around the country increasing security measures to prevent school shootings. Brandi Blackbear wrote horror stories similar to those of Stephen King, dressed in a slightly Gothlike way, and was not afraid to be herself, or to stand up to bullying by popular kids. Her defiance engendered hostility toward her from certain segments of her school's culture. False stories of threats of violence were circulated, and the combination of her writing and authorities' natural hyperawareness following Columbine led to her being suspended. When some of her fellow students later saw her checking out a book on world religions, including Wicca (as research for her stories), they immediately branded her a witch, and eventually accused her of casting a spell that made a teacher sick. Fear of her spread through much of the school, and she was once again suspended. Finally, her parents went to the ACLU, where they were told they had a good case against the school for violating her civil rights. The ACLU sued the affluent school for $10 million, even though the Blackbears were not sure they deserved that much based on what Brandi had suffered. Still, the ACLU argued that the school would not take any lesser claim seriously. When the school offered a settlement, the Blackbears refused. They were not interested in the money, despite needing it; what they really wanted was to have their story heard in court to inform the public that the school had mistreated Brandi. The judge ruled to dismiss the charges rather than going to trial, and ordered the Blackbears to pay $6000 in court fees, which they could not afford. Eventually it was agreed to drop the fees if the Blackbears dropped their appeal."
michelle vanvlack
Discussion Forum
Discuss Not Like Everyone Else on our Movie forum!